---
I'm trying to move from 1.5.6.4 to 3.0 by setting up a test site and getting familiar with all the changes. Using the default theme, there are two thumbnails beside the product options. Code inspector says the images are from the cache and are no_image-50x50.jpg. This would imply that the options themselves can have an image and mine don't. Is that true. If so, where to you put an image with options. If not, why are the thumbnails there? Screen section attached as image.
Attachments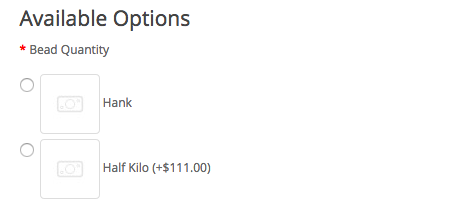 screenshot-localhost-2018.09.18-21-40-22.png (9.56 KiB) Viewed 839 times
---
Did you copy all the data (images, thumbnail) from your previous site? Missing image is a default thumbnail that shows up when original image not found. So you better copy your image folder here so that all missing images can be recovered. Hope Helps.
---
Website designing & Development - https://webdesign-r.in
Indian Matrimonial sites - https://nikahmatrimonial.com
---
---
---
Joined
Sun Oct 21, 2018 11:13 am
Who is online
Users browsing this forum: No registered users and 16 guests