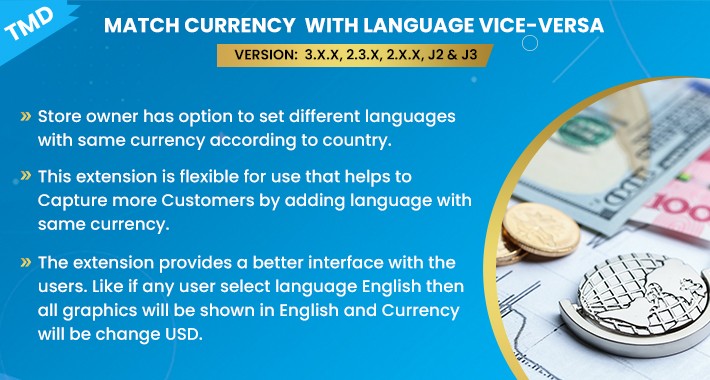 With this addon, the administrator can input the language and currency in the configuration at the same time. By utilizing the currency and language of the same nation in a single environment, administrative labor will be reduced.
When visitors choose a currency, the website's language also changes to reflect the country whose currency they have chosen. The same will occur when the website's complete currency and language options are varied. All active languages and currencies in the setup will automatically be displayed by this module. Just choose them all at once, admin.
Choose a language from the language drop-down menu, then choose the same country's currency. The same settings can be made by the administrator for any additional active languages and currencies on the website.
The module will save the configuration, and if a user switches the website's language, the currency will also change automatically in accordance with the admin's settings. Additionally, language changes when a visitor changes currencies. The website's visitor trust factor will rise, and the sales ratio will improve.
The OpenCart currency-to-language and language-to-currency match modules were developed using OCMOD and VQMOD technologies. The OpenCart 2.x and 3. x versions are compatible with this plugin.
To provide the optimum performance, the cloud version is also evaluated. To ensure the quality of the modules and themes, unit testing was done.
Any TMD OpenCart extensions that are installed override any existing website files. The website will continue to operate as it now does. Isn't it simple to use? Yeah!
For further information, you can check our module through the link
Official Website
and
OpenCart.Com