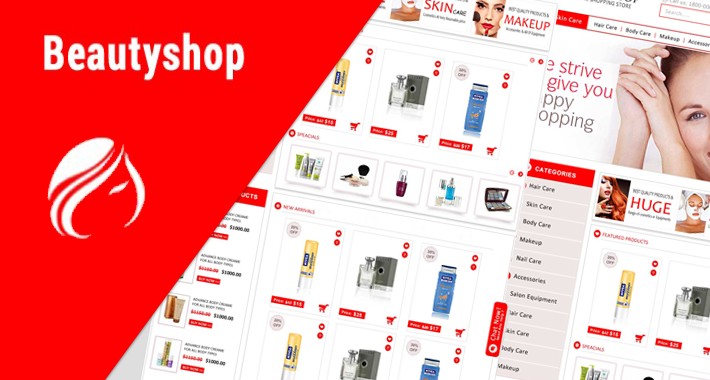 This theme is unquestionably the most exquisite and stunning theme available for any type of online cosmetic store. This theme was created with excellent page layouts and easily compatible components.
The most appealing and up-to-date solutions appear to be horizontal product view options and vertical layouts of various product sections. In this OpenCart Theme for Beauty Store, administrators have access to all the features and design layouts they require.
This theme is compatible with many languages (currently English & Arabic) and multiple currencies (Euro, Indian Rupee, Pound Sterling, US Dollar). Your online store's ability to accept multiple languages and currencies will greatly increase sales.
This OpenCart beauty theme was created with a mobile-friendly layout and design. On desktops, tablets, and mobile devices alike, this theme functions quite well. Customers can use their cell phones to benefit from the slick performance and product purchases. Beautiful integrated search options, interchangeable banners, and numerous horizontal product sections are all included in the theme. Customers can browse the products that have received the most views. Your customers learn about the items and are able to access the ones they want. You get access to a special section of the most popular goods in this Cosmetic OpenCart theme.
Depending on how many times a product has been viewed, the products in this section are automatically sorted in a different order.
This OpenCart beauty salon theme makes it simple to include all of your social media icons in your huge footer. Visitors will have no trouble navigating your various social network accounts.
The social media symbols increase your brand's credibility with your customers and turn site visitors into potential clients.
The tastes of your customers matter to us. Comparing Google fonts to other fonts, they offer many advantages. You can use it for any commercial purpose without giving credit because it is free. Fonts that complement the interior decor of the beauty salon are carefully chosen.
Your website becomes more engaging when you use a footer, and we do the same for you with our huge footer. You can add a variety of phrases, links, images, addresses, and maps to your footer using our integrated Mega footer. In an emergency, quickly add categories and crucial links. It enables the administrator to create material.
This OpenCart beauty theme is ideal for you if you are the owner of cosmetic or beauty products. We give you access to the most adaptable, current, and fashionable cosmetic themes. It is also useless to add items to a cart or favorite list. Overall, this theme was created specifically for beauty salons and would match your salon perfectly.
Benefits
Optimized For Speed And Performance
The speed and performance of this OpenCart theme for beauty shops have been greatly improved. Customers will enjoy little buffering, quick loading, and seamless performance. Whether it relates to clicking options, the scrolling effect, or touch reaction.
Every E-commerce Option Available
This theme includes all e-commerce functionalities. such are shopping carts, favorites, various product categories, blogs, newsletters, and several others.
Beautiful, Engaging, And Trending Design
The most stunning, captivating, and cutting-edge designs, elements, and technologies make up this theme, which gives your store a distinctive look and feel.
For further information, you can check our module through the link
Official Website
and
OpenCart.Com