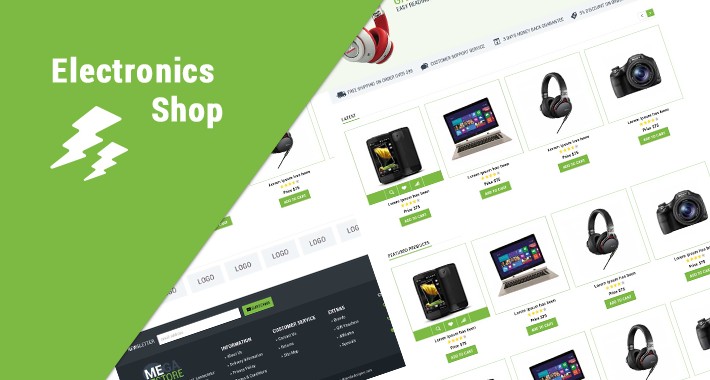 Electronics stores are the perfect fit for the Opencart theme. By using this responsive Opencart theme, you can increase website visitor engagement. It is ideal for selling electronics products and is highly customizable. The amazing design and gorgeous display areas enhance how the product photos are presented. On all sizes of screens, this adaptable Opencart theme will look fantastic. The fact that this Opencart theme enables clients to browse products by brand, bestseller, and product category is its most amazing feature.
It provides beautiful layout options that give your store a polished appearance. The features will boost conversion rates as well, which could increase sales for the company. Use this high-performance electronics store theme to draw in customers. It delivers very responsive layouts that look great on all screen sizes regardless of the device you are using. A flexible Opencart theme that improves user engagement and loads quickly even on slow internet connections.
All types of displays will have no trouble navigating your website. For the optimal user experience while shopping, the layout will automatically change depending on the size of the screen. The gridview on a desktop computer displays four products; however, on a mobile device, the number of products will automatically change from four to two or one, depending on the screen width. In order to turn tourists into consumers, it provides the best travel experience.
Your customers can sign up for the newsletter and receive updates on the newest electronic devices, deals, sales, etc. with this Opencart theme for electronics. By providing subscribers reminders on their mobile phones via newsletter features, you may engage more customers. Customer interaction is improved by keeping customers informed about your online electronics store.
Social network links could help you draw in more people and convert them into prospective customers. It will increase social media interaction and drive more traffic to your website. You may add all of your social media icons and account links to the footer of this theme. The admin can control social links.
You need some style on your website. Your website will stand out because of the interactive elements, strong typography, and striking colors utilized in this Opencart theme for electrical stores. The product section can have a zooming effect. You can also use the banner section to promote new deals or discounts.
easy-to-read fonts that are simple and enticing for customers. In contrast to other font collections, Google Fonts are significantly lighter, more limited, and more distinctive. It uses Google CDN and loads in just a few hundredths of a second.
Google fonts automatically check the browser and provide the most appropriate font for the website, in contrast to other fonts that require us to submit various font types for compatibility. The great cross-browser compatibility of this electronic Opencart theme is evident. Any browser, including Internet Explorer, Firefox, Google Chrome, and Safari, is compatible with it. This theme includes every element required for search engine optimization. According to Google, the SEO meta title and tags will appear. The website file size and server load have been greatly reduced thanks to the use of fewer lines of code. Additionally, the mobile search ranking is enhanced. Because of speedier page loading times, visitors today like to not have to wait longer than 5 seconds.
For companies that sell electronics, hardware, accessories, gadgets, computer components, digital products, etc., it is the ideal theme.
For further information, you can check our module through the link
Official Website
and
OpenCart.Com