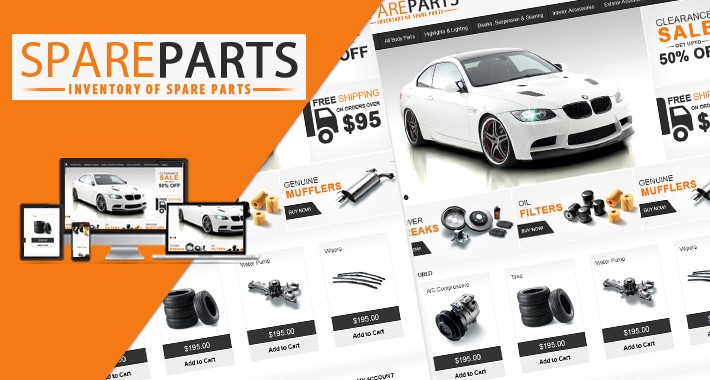 Every firm nowadays is attempting to move its offline sales and marketing operation to an online platform due to the ever-rising trend of internet technology.
And one of those markets is the current automotive, automotive, and spare component manufacturing and trading businesses.
We at TMD developed this contemporary theme with the requirement for an effective theme for spare parts retailers and manufacturers in mind.
The modern spare part theme is based on OpenCart technology, and you'll find that building a store for your automotive and spare parts business is really simple. Therefore, it goes without saying that you can buy this theme to build an online store for automotive products and replacement parts.
This theme is a complete online store for e-commerce, and we have already integrated a number of modules with it.
The theme enables you to market and sell your goods online, take online orders, and sell your products.
As a result, you may scale your business at any time by using this theme, and it will undoubtedly be beneficial for you.
This theme works well for a variety of manufacturing and trade enterprises, but it works best for trading. Online sales have become increasingly popular in recent years.
Therefore, trade companies can use this subject to grow their business even if they have never taken use of the advantages of selling spare parts online.
All retail traders and business owners in the automobile spare parts industry can make excellent use of this theme, as the name says, i.e. Spare Parts (Latest Theme). This theme is also useful for marketing an infinite variety of accessories, spare parts, and other products related to the motor sector.
Therefore, this theme perfectly fits the category of any business owner who wants to construct a website for retail.
Here are some of this theme's features and most recent updates.
This design is ideal for online store owners and spare parts sellers that want to run a successful business.
On its products page, this online store lists its products and categories for easy navigation.
The purchasing experience of visitors is made fascinating by appealing colors, strong typefaces, and interactive elements.
Dark theme for the clearest viewing and displaying of things like bicycle and auto parts.
What is Included with this theme?
1. Responsive Ready-Made Theme
This theme looks great on all devices and is fully responsive. Therefore, it makes no difference if you have an app for your store or not.
You can use this theme as an application, and it flawlessly functions on all browsers.
2. Easy Customization
The dynamic interface of this theme is designed to make customizing simple.
As an administrator, you can add more pages, edit text banners, and modify all of the page's content.
Therefore, using this theme will make setting up your online business simple.
3. Awesome Font + CSS3 + Bootstrap
This theme has the nicest font for a comfortable reading experience.
Additionally, CSS is included for simple text and font changes to improve the appearance and feel.
The theme also makes use of bootstrap technology, allowing any competent programmer to modify the theme's architecture and scale business objectives.
4. Special Categories page elements.
The theme includes unique category page components that are sidebar incorporated for simple navigation.
This enables you to display product categories in the sidebar in addition to banner ads for special offers.
Additionally, it offers different item display styles with a range of item sorting options for all products displayed in the store.
Name Wise
Price Wise
Rating Wise
Model Wise
and restrict the number of products displayed on each page to no more than 100 products.
The see and buy now buttons on the front end of the products also display special effects.
5. The Product Page Elements
This theme's product page includes all the essential components for selling products from your business.
This includes showing the product's rating, the reviews tab, the social sharing buttons, the add to cart and add to wishlist buttons, and the display of numerous product photos.
For further information, you can check our module through the link
Official Website
and
OpenCart.Com