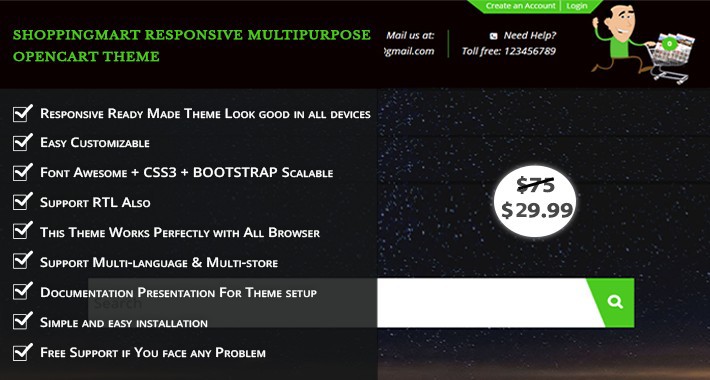 TMD engineers developed this brand-new responsive multipurpose theme for a variety of e-commerce companies.
You might use this theme, for instance, to create an online store for clothing and accessories, footwear, general merchandise, groceries of any type, or electrical goods.
Depending on your business niche, you could frequently struggle to decide which theme to use. Therefore, this theme will without a doubt satisfy your e-commerce business needs. It doesn't matter what industry your e-commerce business is in because this shop is multifunctional, therefore you can choose this theme for a range of business needs.
This design is ideal for an online shopping mall. To facilitate online selling, the theme's design and architecture are presented in a tidy and expert manner.
As a result, our online store has additional useful modules that you can use to display your products in a realistic way.
This theme's appearance and feel enable users to take advantage of the greatest browsing experience and feel better.
This theme's capacity to make visitors' shopping experiences entertaining is also demonstrated by its effective color combinations, contemporary responsive design, and interactive aspects.
This template's navigation has received a lot of consideration in order to provide the best user experience.
With the help of this theme, your customers may perform searches by brand, bestsellers, product categories, and other criteria.
Every time you submit a new item from Admin, a new label will also be displayed on the product.
For improved information display, this theme also offers a respectable description, specification, and review tab on the product page.
What is Included with this theme?
1. A decent Megaheader and Footer.
The most crucial website components that improve the user experience for your store are the headers and footers.
This template provides you with a Mega Header and Footer combination for simple and practical audience page-to-page navigation.
2. Responsive Ready-Made Theme
This theme looks great on all devices and is fully responsive. Therefore, it makes no difference if you have an app for your store or not.
You can use this theme as an application, and it flawlessly functions on all browsers.
3. Easy Customization
The dynamic interface of this theme is designed to make customizing simple.
As an administrator, you can add more pages, edit text banners, and modify all of the page's content.
Therefore, using this theme will make setting up your online business simple.
4. Awesome Font + CSS3 + Bootstrap
This theme has the nicest font for a comfortable reading experience.
Additionally, CSS is included for simple text and font changes to improve the appearance and feel.
The theme also makes use of bootstrap technology, allowing any competent programmer to modify the theme's architecture and scale business objectives.
5. Support Multi-Language and Multi-Store
You can use this theme for international languages and currencies thanks to multi-currency and multi-language support.
This is particularly crucial when you're seeking to promote your product in another nation and other countries around the world.
6. Documentation presented for Theme Setup
When you purchase this theme, you will also get all the documentation.
You may easily integrate the theme and launch your online store much earlier with the help of the guide.
The documentation is currently organized well enough for any user to understand how to correctly set up your store.
In order for you to handle your store setup, use a straightforward installation approach.
7. MyAccount & Wishlist
This theme offers the option to register for a user account, much like every other eCommerce site.
Orders can be placed from the user's account after logging in.
View orders and submit evaluations for the items that are offered for sale.
8. Free Support
After you purchase this theme, TMD will offer yearly support without charge.
So while we set up your store and make it live for you, you can simply relax and enjoy.
Additionally, we offer free support all year long to help you with any technical issues or faults you have.
For further information, you can check our module through the link
Official Website
and
OpenCart.Com