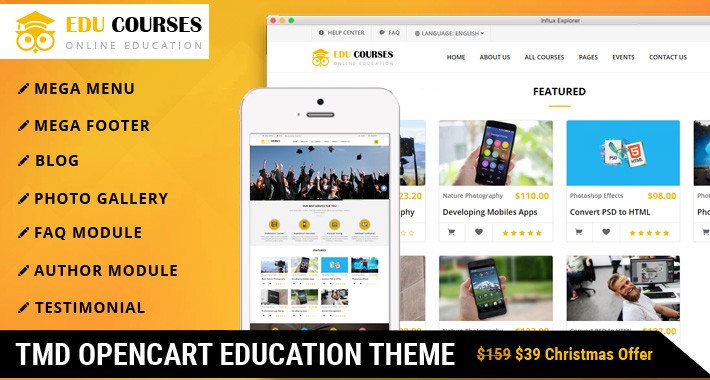 In recent years, the internet revolution has not only given rise to e-commerce companies but also to online education.
There are many educational institutions today, including universities where you can take a variety of courses online, as well as other educational systems and organizations. As a result, the online education market is expanding, and many of us may be considering switching from the traditional to the online delivery of education.
Since students and learners are more comfortable learning from home or a café at their own comfort and at their convenient times, online education has grown significantly in recent years and has demonstrated more effective results.
Additionally, it is more enjoyable than traditional classroom instruction and can be customized to accommodate practically anyone's schedule.
There are many different kinds of online education enterprises, where you may offer students a whole degree online or run other online courses that are more focused on a certain subject or course. The learning management system is what this is.
For an extra fee, we will assist you in developing a complete LMS education system if you require one. However, we have instead introduced a store for you where you may sell goods like instructive books, audio courses or booklets, or other product-related educational series. We are not putting the LMS system front and center here; instead, we have brought this.
Since creating a store for your company is the focus of this theme rather than a learning management system. As a result, this theme was created by TMD as your online store for conducting e-commerce company and a store for selling goods.
The internet and web technologies have evolved into trustworthy sources and platforms for building an online education business. The most recent e-commerce foundation and technology were specifically used to create this theme on the OpenCart platform.
With the aid of this theme, you can offer books and other educational features items. The purchasing experience of visitors is made more engaging by appealing fonts, effective hues, and color schemes.
Additionally, there are options for brand, bestsellers, and product category searches. This theme has many accessible Modules that make them simple to utilize, and the advertising banners make it the finest for generating sales.
Features of TMD's responsive theme for education
1. Mega Menu
Why utilize a Mega Menu? Mega Menu is a different module that has been developed just for your classified advertisements store to increase its elegance. Mega Menu enhances the elegance of a categorized theme, particularly when there are a variety of categories and subcategories.
Customers can read all classified groups' ads in a single view with a more complete view of each section's ads.
2. Mega Footer
Without a Mega Footer module, modifying your footer has never been as simple as it is with the categorized theme's Mega Footer. With the help of a big footer for your classified business, you can display important footer links. Include all necessary internal connections as well as social media sharing icons.
3. Featured Category
Create as many categories on this classified theme as necessary. You may create and manage several categories of adverts on your site thanks to the featured category, which is an important feature.
For instance, you can list "auto" as a classified category if you want to feature ads for cars, and you can do the same for other categories as well.
4. Newsletter
Any website should have a newsletter since it acts as a call to action and attracts targeted visitors who are interested in online classified advertisements.
By using newsletter modules, you may create an email list that can be used for retargeting and to keep your consumers entertained with relevant new offers and advertisements.
5. Fully Responsive & Optimized For Any Device
The categorized theme for OpenCart was designed by TMD to be responsive and is, by default, compatible with all devices for the best possible display, typically across all screen sizes.
For further information, you can check our module through the link
Official Website
and
OpenCart.Com