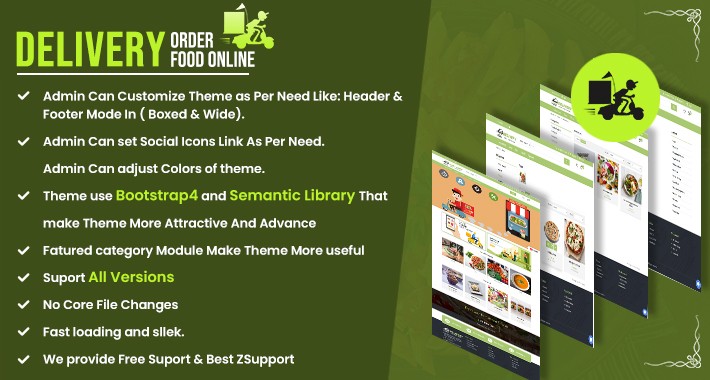 This theme for food delivery is distinctive in its own right. All cafés, restaurants, and food stores that want to offer consumers meal delivery services should use this theme.
It is appropriate to take live food orders from consumers who are nearby or far away because it is simple for store owners to offer fresh food on demand.
Therefore, this food and meal delivery theme will be among the best online food stores for your company to use to make money online. You can choose from a variety of controllable modules, including social login, a Google map, a product slider, a movie, and more.
With an image of the category that more clearly explains which category is present in your business, this theme offers a novel approach to categorization on the main page.
If you own a restaurant or another type of food business. then you can undoubtedly benefit from this theme.
This theme will assist you in creating an online food section where you may display menus, a product catalog, food items, discounted prices, and real customer feedback.
Therefore, this will undoubtedly improve customer opinions of your products, reviews, and the reputation of your grocery store.
Additionally, you will be able to interact with your customers, learn what they need, and comprehend them better. You can then capitalize on this by giving them what they want.
You can use this theme to start your own online food corner even if you run a small food corner, which will give you significant advantages.
1. An online store will be available.
2. Increase online income
3. Learn more about the preferences of your customers.
This theme offers you the option to show the header and footer in a box or at full width, depending on your preferences.
This theme has a dynamic control panel that enables most of a website's fundamental elements to be customized. One such feature is the header and footer section, which is frequently regarded as the website's core content and where you can change your header and footer.
Theme colors and Header & Footer Mode settings allow the administrator to choose between a Wide or Boxed type aesthetic.
The features work together to make the theme very user-friendly. For selling goods online, this completely responsive Food & Delivery theme would be quite beneficial.
The admin can configure the social links according to preference and any accounts a business may have thanks to the dynamic option in the theme. So let's say you want to share a link to any other social media login. You might also have a Tumblr account. You can add as many links as you like using the theme.
The theme's color settings are a crucial component of making your website visually appealing since they allow you to configure the theme's color for a sizable number of website elements that will appeal to visitors and end users. It enables you to transform.
This theme advances and becomes more attractive thanks to the use of Bootstrap 4 and the Semantic Library.
In order to create responsive, mobile-first projects for the web, Bootstrap is the most well-liked HTML, CSS, and JS framework. As a result, we used the most recent Bootstrap technology to create this theme as well as the Semantic UI Component, which will improve your website's performance and give it more strength.
As was already mentioned before, the theme was developed utilizing OpenCart technology and Bootstrap. By doing this, you'll get the fastest loading speed possible for your website and a lower bounce rate.
You can install this module with confidence because it won't replace any of your core files. To avoid any form of error, it is preferable to create a backup of your website. But don't worry; our support staff, who are always eager to assist you and your business, will assist you with installing this module.
For further information, you can check our module through the link
Official Website
and
OpenCart.Com