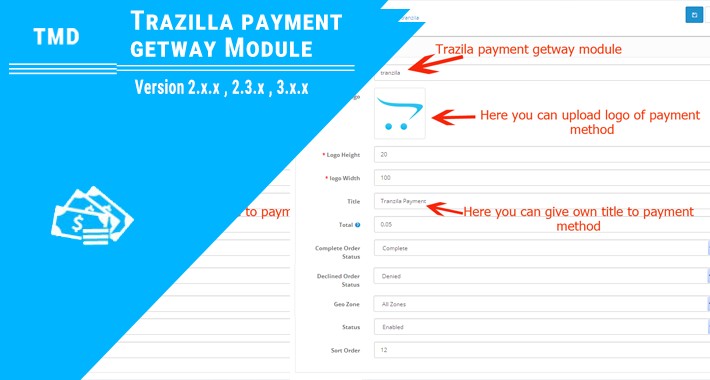 When it comes to the fastest, safest, and most accurate credit card processing, Tranzila is a well-known brand. The TMD OpenCart Tranzila payment gateway is made explicitly for online transactions.
Your transactions become 100 percent safe and secure as a result. We periodically expand the functionality and user experience of our OpenCart Tranzila payment module for our customers.
The website can pass the entity's name that will appear before the payment transaction page at the moment of payment. The website can also send product information, Because we employ API, SSL, tokenization, and many other features that make your gateway cutting-edge and popular, our TMD Opencart Trazilla payment gateway is well-known and dependable.
You may make every payment 100 percent secure, dependable, quick, and easy with the aid of these technologies and security. Another creative and problem-solving payment gateway that quickly accepts credit card transactions is the OpenCart Tranzila payment module.
All of the key payment options a company would require for their online business are provided by our Tranzila OpenCart addon. The following are a few of the most significant point solutions in this payment solution:
Automatic virtual terminal transactions
Online payments that are secure
Solution for multiple users and branches of payments
generating payment invoices automatically or using a digital signature system
payment on schedule
Fraud Automatic detection and prevention
The OpenCart Tranzila payment gateway does not require any changes to your store's theme. It works flawlessly with each theme on your website. As a result, our payment gateway is compatible with both simple themes and more complex ones.
Simple integration Start using our extensive payment gateway online by integrating our payment gateway with your OpenCart software in just a few easy steps.
You will profit from the fastest and most secure payment methods. Fast, secure, and safe payment solution. In an emergency, you can receive and release funds.
Numerous payment options: As was said before, we have a variety of payment options for you. To resolve all those problems, pick our OpenCart Tranzila payment module.
User experience is enhanced: Our quicker, more dependable, and more successful payment message begins to increase user confidence and experience on your websites or stores.
For further information, you can check our module through the link
Official Website
and
OpenCart.Com