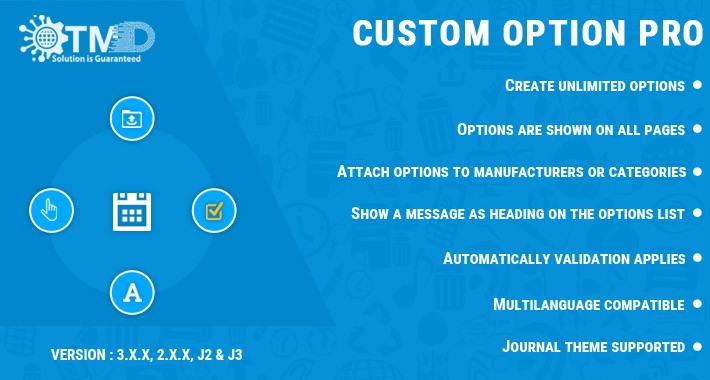 You can display an additional set of options on the product page with a message using the OpenCart custom option pro module. When the website offers identical options for multiple products, it is especially helpful to the administrator.
This module can demonstrate crucial elements when a website produces wearables that require measurement. Admin can provide a sizing chart and allow your customer to correctly enter their height and width.
Salient Features :
1. Create countless options.
2. The product page, checkout, order detail, and invoice all display options.
3. Option to attach to all items in the category by the chosen category
4. Show option for all items with a specific manufacturer
5. Validation is applied automatically based on the configuration.
6. Display a message as the list's heading.
7. multilingual friendly
8. The Journal Theme backs
By simply selecting product names, producers, and categories, this module simplifies administrative tasks. It is not necessary to change each product individually to add choices. Additionally, this module will make options available everywhere, such as on product pages, checkout pages, order detail pages, and invoice pages (PDF). Options will automatically undergo validation in accordance with settings.
Without increasing the prices of the products, the administrator can provide options. just as the default selection has. Extension Allows you to build as many alternatives as necessary to meet the needs of the website. There is a feature that allows the admin to display custom options alongside the standard product options. One of these "Radio, Select, Checkboxes" will be chosen by the admin.
The product option must match the option type that was chosen. In this manner, the default option will be disabled when a consumer chooses the custom choices, allowing them to enter and pick an option.
For further information, you can check our module through the link
Official Website
and
OpenCart.Com