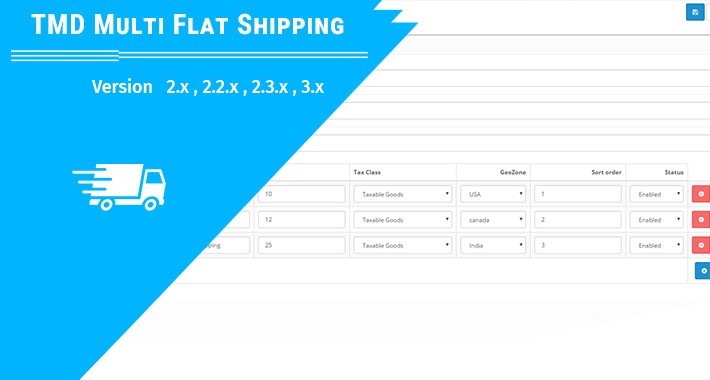 One of the best extensions for flat rate shipping that makes it simple for the administrator to apply shipping based on the nation is this one. Based on the client's shipping address, the admin can generate several shipping prices that are immediately displayed to the customer.
The administrator can establish different shipping costs for digital and physical products. When a website sends products to various countries, this module enables the administrator to collect shipping fees from customers.
Additionally, there is a feature called Tax Class where the admin can define two different shipping costs: one for physically mailing things to client addresses and the other for digitally downloaded products.
Admin can customize the name of the shipping fee. Therefore, all shipping expenses must be kept distinct from one another. The amount will be directly added to the price the buyer would ultimately pay.
The module's status can be changed by the administrator to enable or disable all of the increased shipping expenses at once. Additionally, changing the sort order causes the delivery cost to appear on the checkout shipment.
The user is asked to choose the delivery fee on the website's checkout page. The title supplied by the administrator in the multiple shipping cost module setting will appear here with the shipping cost.
This plugin checks the customer's shipping address automatically. Additionally, verify that the nation of the customer's address matches the module's shipping cost option.
The most crucial aspect of any e-commerce website is the shipping price. Because of this, TMD specifically designed this module to operate with OpenCart versions 1.5.x, 2. x, and 3. x. OpenCart's most recent versions are all fully functional and supported by modules.
The upload module section in the admin area of your website makes it simple to install a module. because OCMOD is used in this module. it keeps the main OpenCart files intact.
Your website is not changed. After installing the TMD module, everything in your work will function.
The plug-and-play multi-flat shipping cost module for OpenCart. You only need to install it, then you may use it immediately.
For further information, you can check our module through the link
Official Website
and
OpenCart.Com