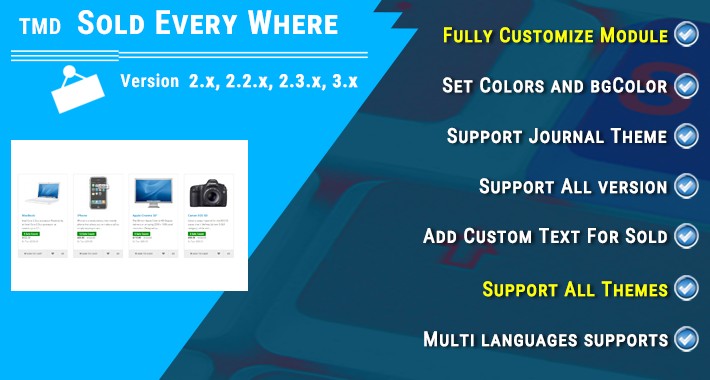 Every product on the website will display the number of sold quantities thanks to this plugin. It supports all of OpenCart's standard modules that are used to show the product list. To display sales figures, one has to know how many things have actually been sold.
Add your own product sales data as well. When you want to display sold quantity differently for various products, it would be helpful.
Store-level settings were included with this plugin. The text that appears can be modified by the admin using the setting. Set the text and background colors in accordance with the overall concept of your website.
A product list will be published on the website that updates the sale quantity. The name, model, and actual sales volume of the product are displayed. The administrator can change the product's number. Customers will be able to see the total number of sales count on the website as this new number will be added to the current product sale count.
There is now an admin filter available. It has the ability to filter products by name and model. To obtain the result, the filter employs the String "contains the function." When your website has a huge number of products, this filter will be quite helpful.
The OpenCart rules are followed when developing the sold-anywhere module. As a result, our module is compatible with every standard OpenCart extension.
The most recent modules, bestsellers, deals, and promotions were all available on OpenCart. Additionally, sold counts are shown on the search page.
Every version of OpenCart 2. x and 3. x has been tested, including the extension that is widely available. The most recent version 3.0.3.3 of this module has been tested. A unit test is employed to check that the extension operates flawlessly on the website.
It employs OCMOD. This indicates that after installation, there are no core file modifications or replacements. Using XML, all modifications will take effect at runtime. It's too simple to install. Just a zip file needs to be uploaded. Refresh the modifications. You're done now.
For further information, you can check our module through the link
Official Website
and
OpenCart.Com