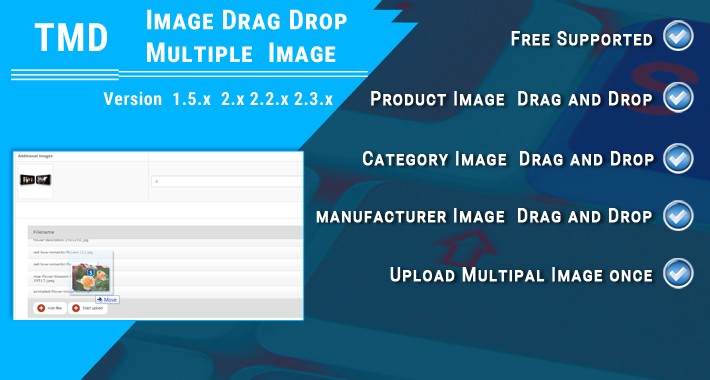 When the website has many products, you should use the OpenCart multi-image upload, and picture manager.
It allows users to drag and drop numerous images into the upload screen at once.
Both the most recent OpenCart releases and the older 2. x versions are compatible with this extension.
By doing so, the admin will update the products and categories more quickly and may concentrate on business-related tasks rather than content.
There is a drag-and-drop image upload feature in the module. Countless images from the folder or simply drag and drop from the PC. It is simpler and more user-friendly. You don't even need to make any technical adjustments to the website on the admin side to submit photographs this way.
In the Category, Product, Manufacturer, and other pages, the administrator will submit numerous photographs. Anyone can utilize the simple drag-and-drop picture upload feature provided by this module. The following steps can be used to display or conceal the additional fields.
This module was created by TMD to operate with OpenCart versions 2 and 3. The upload module section in the admin area of your website makes it simple to install a module. OCMOD is used in this module. it avoids replacing core files
We have plug-and-play extensions, modules, and themes available. You only need to install them, then you are ready to utilize them.
For further information, you can check our module through the link
Official Website
and
OpenCart.Com