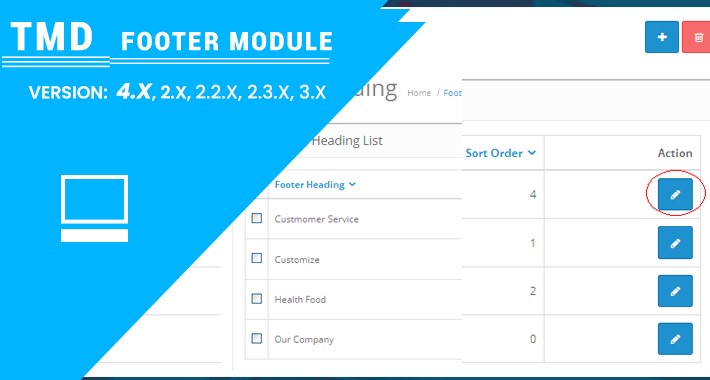 The custom footer menu is an extension that we made. It has a full administrative dynamic. The module will give the administrator the ability to manage the entire footer, including the main header, subtitle, and links. You can now add some crucial information that will benefit your customers.
Since none of the modules we provide will modify any core OpenCart files, there won't be any problems when updating. We developed an extension that makes it simple for administrators to handle Custom header menus.
The menu title and links in the footer are being edited. 4 footer sections' titles can be customized by the admin. One of the four section titles and the sequence in which the titles appear in the footer were set by the administrator.
The module's sort order was used to display the title on the footer in the same order. The title's status can be changed by the administrator to show or hide it in the footer
If your website has been installed and is fully functional in several languages. The admin can input the footer section titles and menus in the appropriate language, and all installed languages will be displayed in tabs. When clients changed the language, menus displayed in the footer reflected the change.
Customers and clients are always important to TMD. For this reason, all modules and themes have been built to be multilingual. With multiple languages, it functions flawlessly.
This module was created by TMD to work with OpenCart versions 2. x, 3. x, and 4. x. The upload module section in the admin area of your website makes it simple to install a module. because OCMOD is used in this module. This leaves core files alone. It also functions with web pages that users can.
We have plug-and-play extensions, modules, and themes available. You only need to install them, then you are ready to utilize them.
For further information, you can check our module through the link
Official Website
and
OpenCart.Com