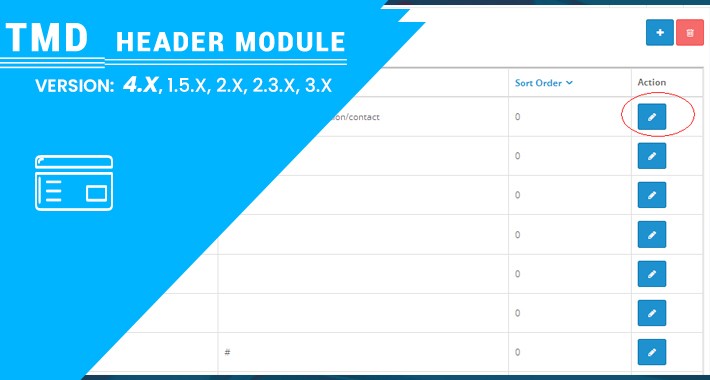 We developed an extension called Custom header menu, which is entirely dynamic and customizable by the admin. Once you've installed it, you can add optional menu items to your store that are beneficial to it.
Its title and link can be adjusted from the admin page, and the sort order option aids in organizing the menu effectively. Its most significant benefit for all of you is that it is free of charge. You can gain fully from it. You can visit our website, which offers a variety of Modules, to find the more helpful module. Gateway for payments and themes Module. Low cost and highly beneficial to your store.
Default The header menu cannot be customized by OpenCart to meet its needs. There, only Categories and Subcategories are displayed together with a product count. The admin can set or modify the menus using this module in accordance with the needs of the website. everything from the menu text to choosing the parent and location on the list of menus where the menu will appear. The two levels of the menu hierarchy can be adjusted by the admin. The sub-menu will always appear on the third level of the menu hierarchy.
The column setting allows the administrator to input the column number. Make sure the menu will appear on that column by checking this module for the column number. A menu's placement in the list of all sub-menus is determined by the sort option.
The current version of the OpenCart Custome Header Menu Extension, 3.0.3.3, has been tested on OpenCart versions 2. x, 3. x, and 4. x. Version for the cloud was also tested. the test unit that was utilized.
It makes use of OCMOD. Therefore, there are no upgrades or replacements to the core files. Using XML, all modifications will take effect at runtime. It's too simple to install. Just a zip file needs to be uploaded. Refresh the modifications. You're done now.
TMD values its clients and customers. Because of this, we design all of our modules and themes to be multilingual. The language on your website is not English.
The module menu for configuring the setting will display all of the installed languages at the moment. In this method, the website administrator may easily construct menus based on the installed languages. if visitors to your multilingual websites do so. With multiple languages, it functions flawlessly.
For further information, you can check our module through the link
Official Website
and
OpenCart.Com