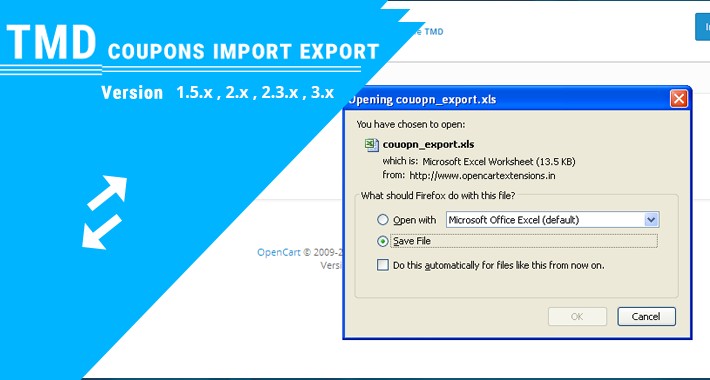 Coupons are used to draw clients and increase sales. It was incorporated into the website admin's already-existing Coupons list page after module installation. The export and import options are at the top of the coupon list page for the admin to find. The administrator can import the coupons into the OpenCart website using this plugin.
Use the sample import file you can download as a model when importing coupons. The website can export a selection of coupons or an entire list. The module was developed to function with all versions of OpenCart, from 1.5 to newer.
There are two export options included in the OpenCart Coupons import and export module. These two options are Export Selected and Export All Coupons. as implied by the name. Administrators must choose which vouchers need to be exported. Once chosen, select Export Selected to generate an export file, and the download will begin.
The new coupons can be imported by the admin using this module. For the coupons to be imported, the file must be in Excel xls format. Since every voucher will be imported by the module, each entry must be distinct and free of any duplicates.
On the import coupon page, there is a link to an example coupon import file that may be downloaded. The administrator can download this file to compare it to the example file and ensure that the coupon information is correctly entered in the file that will be imported.
Both older and more recent versions of OpenCart are compatible with every module and theme produced by TMD. because some are still using OpenCart's outdated version. We want all of the modules to function properly on their website.
Additionally compatible with versions 1.5.x, 2. x, and 3. x is this OpenCart coupon import and export extension. With a good version of OpenCart, it also performs admirably. OCMOD is used during installation. Your website's files will remain unaltered after installation. All module capabilities will be integrated into the admin's current coupons list page. The module is plug-and-play. You only need to install it, then you may use it immediately.
For further information, you can check our module through the link
Official Website
and
OpenCart.Com