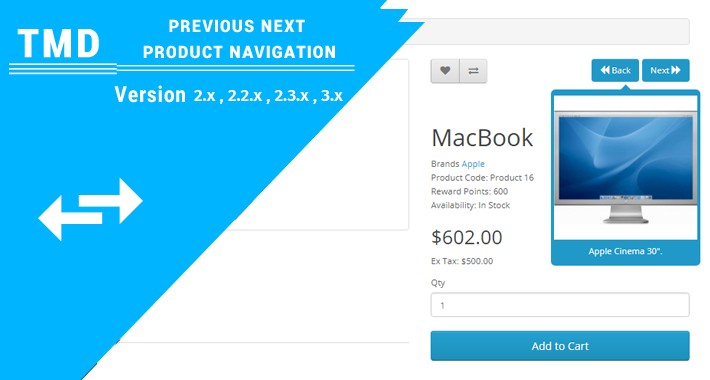 An OpenCart plugin called Previous Next Product Navigation was created to improve your store's user experience and product navigation.
On your product pages, this extension often lets you add the Previous and Next buttons.
Customers may quickly examine their prior product pages and switch back and forth between products they've previously visited on your product page, which is helpful for them.
Customers may move directly to the previous or next product without having to navigate to the category page, which saves them a significant amount of time. From the product page, they can use the previous and next buttons to go back and forth.
Additionally, it saves clients time by allowing them to quickly view all products. OpenCart Extensions India, an established OpenCart partner with ten years of experience, created and developed this module.
Therefore, the module operates in accordance with the OpenCart framework without altering any essential OpenCart files and without experiencing any problems during updates.
1). Simple Installation
The installation of this module on your OpenCart store is just as simple as installing any other plugin. You may easily incorporate these extensions into your store after purchasing the module. You are welcome to get in touch with our support staff if any errors happen. Our customer service representatives will help you install the extension.
2). refrains from replacing any master files
You don't need to worry about upgrading your OpenCart Store because this installation won't overwrite any master files. No modifications are made to the core files. Furthermore, keep in mind that installing the previous-next product navigation won't alter any essential files.
For further information, you can check our module through the link
Official Website
and
OpenCart.Com