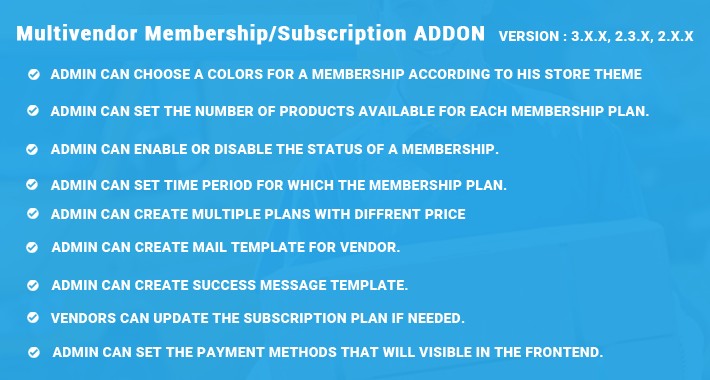 Multi-vendor Membership/Subscription enables merchants to offer purchasing membership programs, allowing retailers to retain their clientele.
We are aware that sellers are an essential component of any online business and are also crucial to its expansion.
Sellers can buy a membership and join a store using a multi-vendor membership module. For his merchants, the administrator can create a variety of subscription plans, giving each vendor a choice of membership types to suit his needs. This module generates additional revenue, which boosts and ensures the expansion of your store.
To install this module in your store, you must first install the Multi-Vendor Module because it is an add-on.
The admin has the ability to generate several programs with various rates that demonstrate effective ideas. According to his needs, a merchant can purchase memberships. This will generate additional income, which will boost your store's expansion and earnings.
Customers that purchase vendor memberships or subscriptions can alter the modules. Because the vendor and admin module processes are so straightforward and helpful for the store, they make the system user-friendly.
Our modules have zero bugs. We give our clients prompt support if they run into any problems. hence we have satisfied consumers everywhere.
Professional Assistance We operate in the OpenCart sector. In the last eight years, we have produced 200+ modules and several topics, giving us a substantial body of knowledge for this framework. If a customer encounters any problems throughout the installation procedure, we offer completely free assistance. After your purchase, you can take advantage of technical and feature support for a period of six months.
For further information, you can check our module through the link
Official Website
and
OpenCart.Com