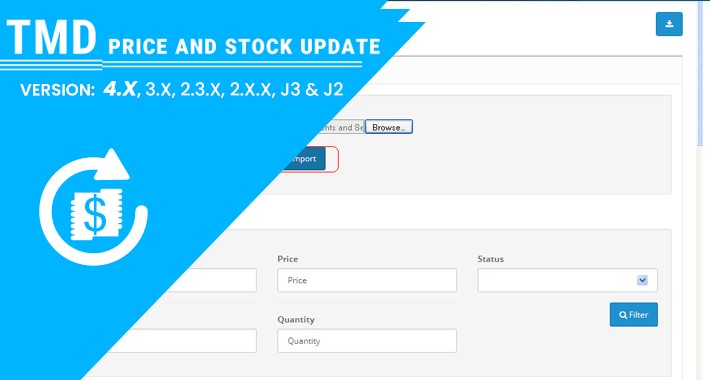 With the easy import of an xls file, this extension enables the admin to adjust the pricing and stock of the products in the store. The administrator can use this module's parameters to import pricing and stock.
A list of the items available in the store is displayed along with options for stock and pricing. The administrator can see which product options have low or high stock levels here. As a result, it makes it easier for the administrator to keep the stock efficiently.
To determine the types of data formats this module supports, an example import file format is provided. Additionally, it works with OpenCart 2.x and earlier versions, as well as the most recent version.
The OpenCart Price And Stock Update With Options extension created a list of items with pagination to save the time required to manage product stocks. Admin can quickly identify the product thanks to name and image. Additionally, for easier understanding, stock availability and price information are provided for all options.
Options are presented here in type-based order. For instance, information about an option will be displayed beneath the radio button type if it is similar to a radio button. The module has provided a link to download the sample import file in order to make the process of updating the product stock simple. The administrator can arrange the import of product information using this file as a template.
For further information, you can check our module through the link
Official Website
and
OpenCart.Com