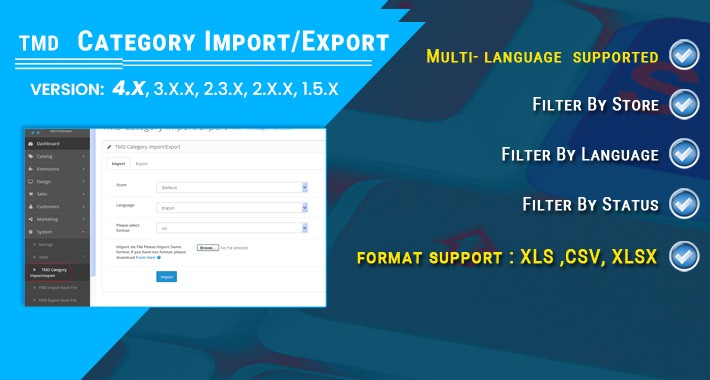 With the help of these extensions, importing categories into websites is now simple. The administrator can choose which store categories will be imported. Additionally, three file formats—XLS, CSV, and XLSX—are accessible for download. With the aid of Microsoft Office, Apache Open Office, or other programs, these file types are easily readable.
The module allowed the admin to select which categories to export from a store in one of three file formats. It guarantees that administrators import or export in the chosen language from among the many installed languages on the website.
This plugin provides an easy-to-use interface for category import and export for the admin. The administrator must be familiar with the listed store's name. The names of your website's stores will be included in the store dropdown if it has more than one.
According to the language used in the import file's content, choose the appropriate language in the import settings. This avoids the messy import of content from one language to another. An admin can obtain a sample import file and use it as a template by clicking the link provided.
To ensure that the import is done correctly, arrange the import file's content in accordance with the example import file. Choose the format that matches the import file extension, such as XLS, CSV, or XLSX.
With this plugin, exporting from one store and importing into another is simple. The language in that category should be exported after choosing one store from the list of stores.
Administrators can control how many categories are downloaded and included in an exported file. Type in the minimum and the maximum number of categories. Choose between enabling and disabling. Categories whose status matches the setting's chosen status.
The exported file contains the category's image URL if an administrator needs it. the chosen file format for downloading the export file.
For further information, you can check our module through the link
Official Website
and
OpenCart.Com