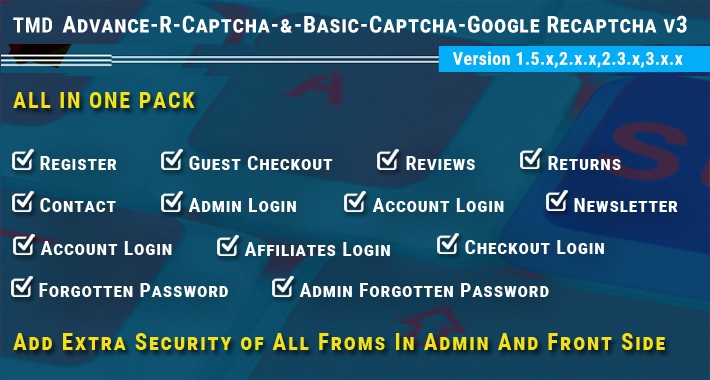 You may add a captcha to the account login page, register account page, affiliate login page, affiliate registration page, checkout register page,
and admin login page with the TMD OpenCart captcha plugin. Choose no from the admin's drop-down menu if you don't want a captcha to appear on these sites. Captcha is added using this plugin to increase security. It is deactivated by default, so you must change it in the admin area.
With versions 1.5.x and up to 3.0.3.x, the addon performs well. Installation is simple, and after setting, it begins to function.
This plugin allows you to include a captcha in each form on your website. From the settings, you can choose to use the default or Google ReCaptcha.
These days, a captcha is necessary to prevent the submission of spam. For the owner of an OpenCart store, it does a lot of work.
The checkout's customer login or registration form has a captcha that the admin can display on the admin login page as well. It also functions with our contact form. There is a global option to show and conceal the captcha in all forms at once in the settings. This is one of the main advantages of this module.
Delete or add captcha The OpenCart module has the intelligence to recognize forms and automatically attach them to the admin-selected forms. There is a list of forms on the settings page. choosing and saving forms from the list., The admin only needs to complete it.
Selected forms will have enabled captcha present on the front end. Before submitting the form, users must provide the correct captcha code. Your website will be protected from bots and spammers thanks to it. who fill out forms with junk information. Bots won't be able to access your site.
The extension has two captchas. Any of them or both may be used by the admin. Google ReCaptcha is available for admin.
Simply add your Google ReCaptcha keys in the appropriate fields and choose the forms you wish to display them on.
The form's name can be chosen in the settings by the admin. Each form's name corresponds to the page on which it is located.
As an illustration, choosing admin login causes Captcha to appear on the admin login page. When logging in, the administrator must use Google Recaptcha.
VQMOD and OCMOD are used in the OpenCart extension's captcha. It works with all OpenCart themes. All themes on the market are compatible with the extension without a single issue. Both popular themes and highly popular OpenCart themes have been tested by us. Plug-and-play extensions are available.
Numerous well-known themes are used to test the module. These themes include Journal, Shoppica, Fastor, and Sellya, among others. It requires some additional work for custom themes.
For further information, you can check our module through the link
Official Website
and
OpenCart.Com