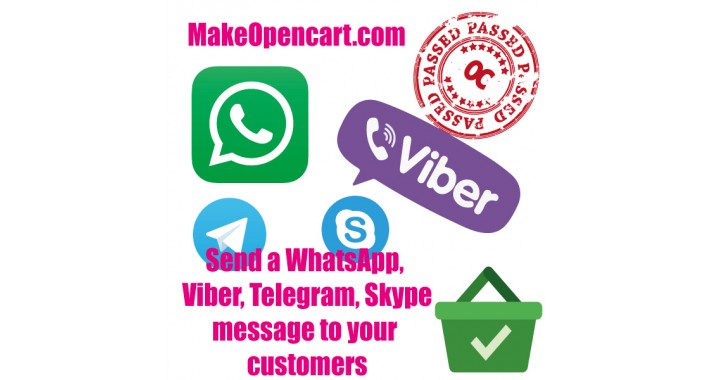 OpenCart Versions: 1.5.x - 3.0.x
To Purchase: Visit
opencart.com
Version: v 1.0
Contact Us
Sending messages to customers via Whatsapp, Viber, Telegram, Skype.
Messages to clients in messengers are FREE. Business accounts and third-party services are not required to work.
You can start a chat without saving a contact.
The module allows you to create message templates with variables from the order (order number, first name, last name, amount, etc.), moreover, you can use data from the order processing fields you created.
The module is designed for convenient communication with the buyer in a few clicks. You no longer need to waste time adding a contact to the app before the chat and writing a text, you can set all the text in templates.
It works through native messenger applications, sending messages occurs precisely by working through the application. Your number installed in the application is used.
Mass automatic mailings via the module are not possible.
The order of work on the example of whatsapp:
Install the whatsapp app
In the admin panel, go to Order view
Click the WhatsApp button
Make sure that the correct phone number is automatically loaded in the field, if necessary, make edits to the field.
Select a template you have prepared in advance with variables from the list of all available templates or use an empty one
In the message field, make sure that the text is correct, if necessary, make edits to the field or add additional information.
Click submit.
The whatsapp application will start (or expand if it is already running) with the desired text and contact
Demo
(login demo, password demo)
* Does not replace system files
* Does not use IONCUBE