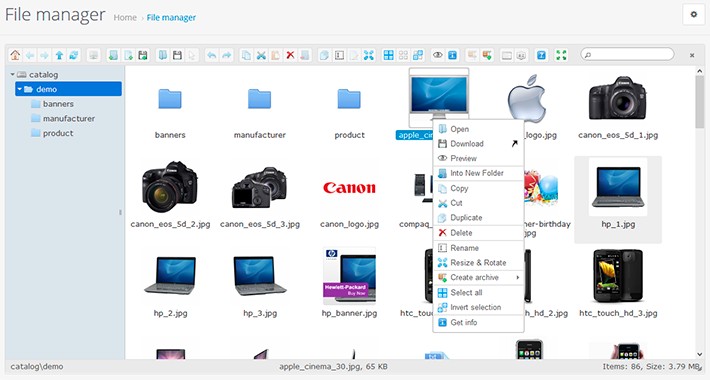 Extended File & Image Manager in OpenCart Marketplace
Opencart File & Image Manager based on Elfinder
Best OpenCart Image Manager!
This file manager replaces default OpenCart image manager in wysiwyg editors and image thumbnails.
Extends default image manager functionality. Supports multi-upload and archive upload/unpack.
Functionality is similar to Mac OS Finder & Windows Explorer.
Features:
Compatible with Summernote, our CKEditor extension and 3d party extensions.
Features:
- Rights control (access, modify) for Opencart users
- Mime control based on Opencart settings (work with DOCX/XLSX/PDF/MP3/MP4 and others)
- Multiple additional images assign for product
- Journal2 & Journal3 template compatible
- Configurable root folder
- "Clear Image Cache" button
- Remember last folder
- Image search/copy/paste/move
- Move/Copy files with Drag & Drop
- Image edit (crop, resize, rotate)
- Image preview
- List and Icons view
- Archive support (zip, rar, 7z, tar, gzip, bzip2)
- Folder management
- Multiple upload
- Background file upload with Drag & Drop HTML5 support
- Places for your favorites
- Calculate directory sizes
- Thumbnails for image files
- Folder upload
- Watermark images on upload (configurable)
- Comfortable to use on big screens
- Keyboard shortcuts
- Rich context menu and toolbar
- Responsive
- List and Icons view
- Fast
- Available from menu Extensions->File Manager
Easy installation with ocmod.