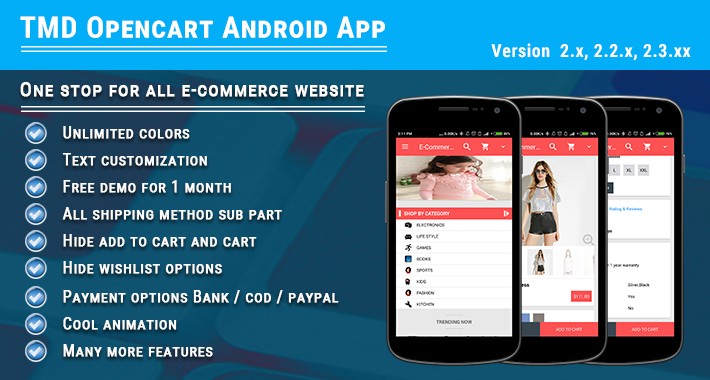 We are glad to launch our new Android app for OpenCart Framework. Our moto "Customer satisfaction". And we made Android app manageable from OpenCart admin. No need to look for developer to make single changes like color and text in app. All you can do from admin and changes will appear instantly to app. Our OpenCart Android App have all functionality which is present on OpenCart website. App made for those who want to sell their product on customer directly. App created in JAVA in client side and PHP in backend side. Using OpenCart Website Admin for App Management. You can manage from colors to Text of App right from admin.
Security is key for Success of E-commerce Business. So that we strongly focus on security. API are secure and very hard to hack. Api response can not read until hacker all necessary things. Hence your Transaction secure as well. We neither store user information on mobile nor store transaction information. Everything is performing on server side. App is secure from mobile hacker as well. In next version we are going to step one level up in security.
Example.
You are going to change your website color theme and want your mobile app must match to new website color than you can change Android app color from website Admin. More over you can also manage what and which text show on website, Every single text is manageable from admin so you can change text from admin and it will reflect to Android app instantly.Even you can also mange which error message according to error. customize error message from admin.
IF YOU WANT TO BUY OR WANT TO TAKE APP FOR DEMO. YOU MUST GIVE US NECESSARY INFORMATION SO WE WILL CREATE ANDROID INSTALLBLE FILE FOR YOU.
NOTE: if any problem / error occurred while downloading color and text from api then app will use default color and text - English. and your user will not notice.
Here are Hot Features list you found on app
1. Color Theme Customization
2. Text Customization
3. Cool Animations
4. Push Notification
5. Free Demo for 1 Month
6. Hide Add To Cart and Wish List Buttons from Whole App or Only Product page
7. Manage App from OpenCart direct from Admin
8. Secure Api's
9. All Shipping Methods supported
10. Payment Methods COD / PAYPAL / BANK - Add Payment Method on Demand (Extra payment required)
11. OpenCart backend
.
Feature Coming Soon
1. Message to All Customer
2. Message to Single Customer
3. More Payment Method Support
Here is Complete Feature list
1. Slider Link to product or category page.
2. Show Latest Product , Offer Product and Recommended product on Home page.
3. Add To Cart and Wishlist from product list - as OpenCart have.
4. Hide Add To Cart and Wish List Buttons from whole app or only product page.
5. Product page with image slider.
6. Add only minimum Qty to cart.
7. All Shipping Method support
8. Payment Method Support COD / PAYPAL / BANK - Add Payment Method on Demand (Extra payment required)
9. Add to Wishlist
10. Login and Register Designed very gracefully so you user will not hustle - that's necessary for online shop
11. Update product qty on cart page
12. Remove Product from cart
13. Add To Cart product from wishlist page
14. Remove product from wishlist
15. My Order List
16. Order Details
17. Return product from order Detail page
18. Returned product List
19. Transaction Page
20. wishlist Page
21. Notification - using google service
22.Change Address / Create Address / Edit Address
23. Edit Profile