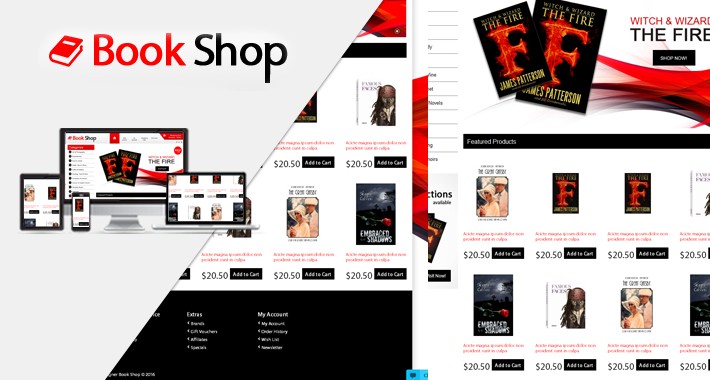 Premium Bookstore Opencart Theme is an advanced OpenCart theme used for starting online stores that are appropriate for products linked to books, publications, and periodicals. The theme is made to be accommodating to online book vendors, periodicals, and libraries.
Bookshop - Premium Opencart Theme is the best option if you're seeking a new theme for your current OpenCart-based online store or a template to change for your client's website. The theme has a sophisticated design and a lovely, colorful layout and presentation that entice customers to shop at your site.
The ideal bookstore has a wide selection of books covering a range of subjects and academic fields.
In order to make navigation simpler for your consumer, we built the category list on the left-hand side of the theme while keeping in mind the needs of the bookstore and its varied book collections. The theme is completely responsive and is compatible with tablets, laptops, and desktop computers.
Very few bookshops or bookstores have made a contribution to the online sale of books and magazines.
Therefore, using this theme to publish your online book store and raise your earnings through book sales at your online store is a great idea.
This book theme will instead assist you to set up your business in a matter of hours or less, unlike starting from scratch, which may be time-consuming and more expensive. Once you make a purchase, our web designers are prepared to assist you in setting up your book business.
For simple navigation, the bookstore administrator might create special book categories. The user will therefore be able to navigate your store easily anytime they land on your page. The theme gives you the option to specify your categories, such as comic books, science fiction, computers, information technology, etc. This can serve as the hub for easy navigation for customers to find the books they want to read in your bookstore.
Every actionable CTA in the theme's informational section is there to increase conversions from users that visit your store.
After signing up, users can easily log in, buy a book from your store, and add items to their wishlist. Customers can swiftly complete the checkout procedure and make an online payment because of its simplicity.
Features of Book Shop Theme
☑ E-commerce Features Packed & Included
Built on the OpenCart framework, this theme is an entire e-commerce theme with all the features and functionalities required to run an e-commerce business. This theme will offer a complete backend for the entire processing of an order, from a speedy checkout process to order and shipment. Additionally, you can add modules at any time to scale your store and update it as necessary.
☑Mobile Responsive
Since mobile devices account for over 99% of conversion, we designed them to be completely responsive so you won't lose out on reader and user interaction and may enhance your sales conversion. Although it's no longer a novel feature, you should never strongly overlook mobile responsiveness. As we construct this theme specifically for your company, a robust responsive layout is at the center of our development process.
☑ Retina Ready
The retina display offers excellent visibility and a crystal-clear image so that your audience may browse the store with the finest User Experience and remain interested in your products for a longer period of time.
☑ Supports Icon & Google Fonts
It supports Google Web Fonts, which are available for free use, and icon font, which is utilized for unique looks and styles on your store to draw people in.
☑ Use Bootstrap & CSS
A website is constructed using Bootstrap and CSS as its foundation. As a result, the theme's structure is simple enough for any company's web designer or web programmer to understand.
☑ Compatible with all browsers
Because you never know from what device your clients are browsing or which browser they are using, browser compatibility is crucial for customers. As a result, we designed this theme to work with practically all browsers and on all mobile platforms.
For further information, you can check our module through the link
Official Website
and
OpenCart.Com