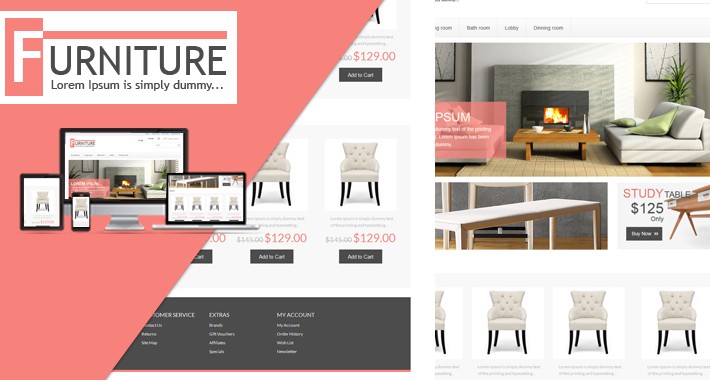 The OpenCart furniture theme is a flexible design that works for furniture stores, lighting, wood, and architectural websites. This pre-made template has a contemporary design, is attractive, and is fully responsive. Check out this theme if you're seeking a theme with a fashionable design for your furniture store. Setting up and using this theme is really straightforward.
With the ability to view your products' brands, categories, and top sales, Your customers can examine the product in detail with the zooming effect, giving them confidence. It works with all of the most recent OpenCart versions. You may set up your furniture store in a few minutes with all the features of an e-commerce website.
Every browser works flawlessly, which enhances the user experience. Your online store can display flawlessly across all screens and gadgets.
This OpenCart furniture theme will undoubtedly satisfy all of your needs for building the ideal furniture website or business.
This theme is the simplest to install and use because of its clear structure. This theme, which takes into account all different user types, automatically adjusts its layout and promotes the greatest user experience across all displays, whether desktop, tablet, or mobile.
Your website and store are more appealing due to the dynamic color combinations and design layouts. Shopping experiences for visitors are made fascinating by appealing colors, strong typefaces, and interactive aspects. Navigation receives a lot of attention.
With the multi-currency option offered by this theme, you may sell your goods anywhere in the world. Regardless of whether it's in Euros, US dollars, pounds, or any other money. This function enables you to collect payments from clients anywhere in the world.
easy-to-read fonts that are simple and enticing for customers. In contrast to other font collections, Google Fonts are significantly lighter, more limited, and more distinctive. It uses Google CDN and loads in just a few hundredths of a second.
Google fonts automatically check the browser and provide the most appropriate font for the website, in contrast to other fonts that require
The furniture OpenCart theme has a crop-down cart option that will enhance your customers' buying experience. In the future, users will be able to view their purchases and savings right from the header.
For further information, you can check our module through the link
Official Website
and
OpenCart.Com