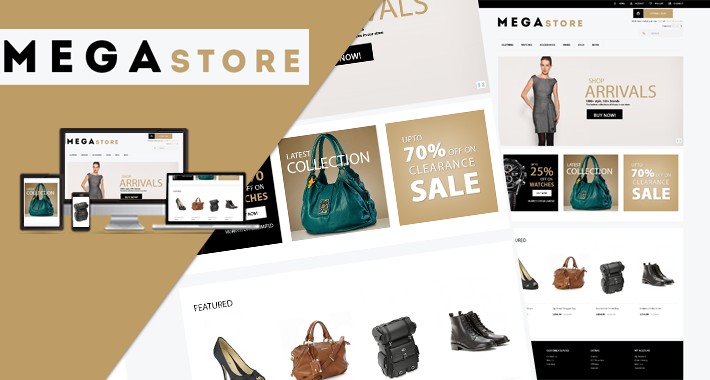 Use the Mega store opencart theme to improve the appearance and feel of your shop. It is exquisitely designed for a variety of stores.
The most effective way for online retailers to attract more customers is through this multifunctional Opencart theme. This website has an elegant page layout and features that work together without any issues.
Elegant, responsive, and fast-loading websites are preferred by users. It enables the administrator to display the products in both list and grid views.
Golden, black, and grey colors were used in the creation of the megastore theme for OpenCart. The user's attention is drawn to the product hover, product page, total cart products, and category top banner designs.
Using HTML5, CSS3, JavaScript, and Bootstrap 3, the mega store opencart template was created. The performance and speed of the theme are considerably improved by these technologies.
The administrator has access to all the design layouts and options they require in this.
On all devices, the opencart mega store theme's 100% responsive layout loads rapidly. Works well on tablets and smartphones that keep users interested for a long time. To accommodate mobile customers, this OpenCart 3 Megastore Template for eCommerce was developed. Regardless of OS, the highly practical layout and appealing design work with smartphones, tablets, and PCs.
The theme comes with horizontal product sections, customizable banners, and search functionality. The most popular items on the website are displayed.
The layout setting allows the admin to display the top-selling items, specials, featured content, and most recent modules on the website pages. These modules apply the color of the theme to many elements, including text, hover, image size, and border color.
easy-to-read fonts that are simple and enticing for customers. In contrast to other font collections, Google Fonts are significantly lighter, more limited, and more distinctive. It only needs a tiny fraction of a second to load because of Google's CDN.
Google fonts automatically check the browser and provide the most appropriate font for the website, in contrast to other fonts that require us to submit various font types for compatibility.
The Opencart 3 Theme for Mega Stores is compatible with the ability to use many currencies, allowing you to expand your business internationally.
enabled the ability to accept users from throughout the world and several currencies (Euro, Pound Sterling, and US Dollar). It will therefore assist you in generating more leads and turning them into sales.
The user experience and SEO of your store will both be enhanced by this multifunctional Megastore OpenCart theme. Users can use breadcrumbs to determine where they are on a website and how far they are from the home page. It makes it simple for the user to access the previous page. It's what the search engines favor. The best opencart templates with functional search engine optimization. It provides SEO capabilities to improve your shopping stores' SEO rankings. Get an opencart theme with a straightforward and lovely interface that is SEO-optimized for large-scale retailers.
For further information, you can check our module through the link
Official Website
and
OpenCart.Com