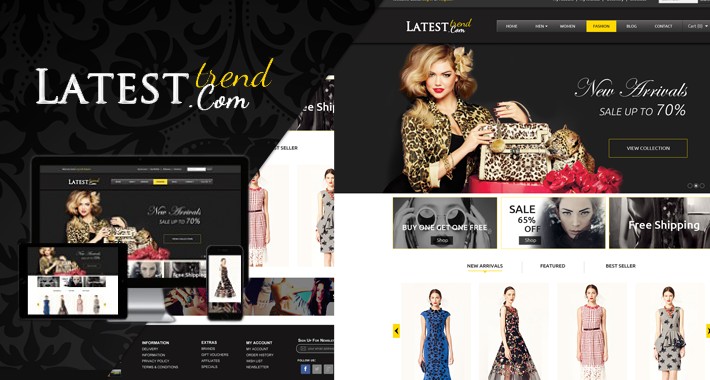 It is a cutting-edge, fashionable, and responsive theme that is ideal for fashion boutiques. Amazing features in this theme can help you show off your goods.
This theme will provide a wonderful first impression on your consumers because of its simple, clean style. This theme has a number of elements that are intended to help you present your goods in the best possible way. A product carousel, a big hero image, and an AJAX-driven product filter are some of these features. The theme also includes a blog and a subscription form for the newsletter. The theme is Retina-ready and completely responsive.
If you want to offer your store a new, contemporary style, the OpenCart Latest Fashion Theme is a great choice. Both the 3x and 2x versions of OpenCart work with the theme. It has a number of features that will enable you to give your consumers a distinctive shopping experience.
It has a tonne of features that will give your online store a trendy makeover like never before. The newest OpenCart 3.0 theme, "Fashion," is ideal for retailers offering apparel, accessories, or any other kind of fashion-related merchandise. The OpenCart fashion theme has been created to improve your customers' usage experience. The most responsive design was used in the construction of this OpenCart current fashion theme.
You can now utilize a sophisticated and potent theme like butter. Our fashion theme is made to be responsive across all platforms and screen sizes.
There's no need to restrict the OpenCart fashion theme to just one language. The multilingual functionality for your fashion theme is enabled. You can increase your customer base by adding your native tongue. Every language enhances the dependability and confidence of your website in a manner comparable to our OpenCart current fashion theme.
With every language that is supported, you have the option to change your font, style, size, and a lot more.
Customize the theme thoroughly and make your website as unique as possible. On your website, you can create menus and use a sliding image option. You may add various types of blocks, change your product's listing, etc. with ease.
Benefits of OpenCart's Latest Fashion Theme
Basic Qualities
Impress your visitors with this sleek and contemporary style. Great-looking responsive design for all devices
a user-friendly management interface Numerous opportunities for customization
Available are pre-designed pages and layout options. Tools for social media integration
support for multiple currencies and languages
Top Features
You must look at this newest fashion theme if you intend to create an online store using the well-known OpenCart platform.
On all devices, the responsive design looks excellent. An easy-to-navigate interface that is current and uncluttered.
a robust admin panel that enables you to completely personalize your website. Support for many languages and currencies is built-in.
a wide range of color options is available. Widgets and icons for social network integration.
support for a range of payment techniques. A modern and sleek style that is sure to wow your clients.
Integrated blog module that enables you to publish articles and news with your visitors. Effective search engine optimization (SEO) module that aids in customer discovery. Featured products are highlighted in a responsive slider.
Additional Features - OpenCart's Latest Fashion Theme
☑ Customizable background
To match the style and feel of your own website, you can alter the theme's background image or color.
☑ Social media integration
To match the style and feel of your own website, you can alter the background color or picture of the theme.
☑ Search engine optimization (SEO)
Your articles will rank higher in search engines like Google, Yahoo, Bing, and other search engines thanks to the Fashion Theme for OpenCart's SEO-friendly design.
For further information, you can check our module through the link
Official Website
and
OpenCart.Com