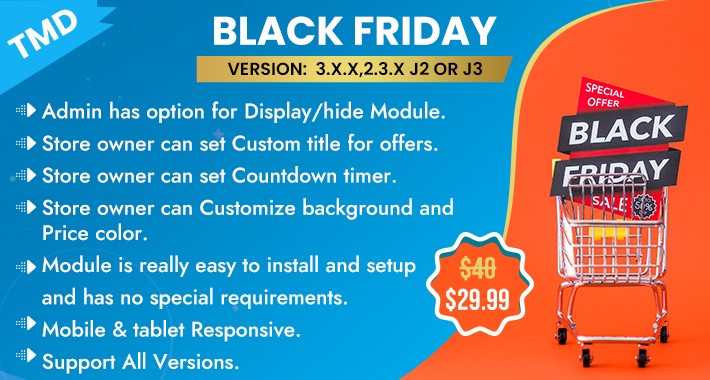 The TMD Black Friday module supports business owners in running effective and efficient marketing campaigns. Therefore, we developed the Black Friday module to boost sales and conversion rates through eye-catching design. We are aware Every year, the Black Friday sale is a terrific opportunity to boost sales, enhance client loyalty, and promote a new store brand. A few months prior to the event, all stores begin creating a list of the sales items and setting up their physical or online stores' functioning.
Salient Features
* The admin can choose to show or conceal a module.
* Custom titles for deals can be defined by the store owner.
* The timer can be set by the store owner.
* The price color and backdrop can be changed by the store owner.
* The module requires no specific setup or installation skills.
* Fast-loading and sleek design. Mobile and tablet responsiveness.
* Free and prompt assistance.
* No Core File Modifications
* Support for Every Version.
* It has multiple language and store options.
* Installation instructions can be found on the documentation page.
* We offer free and excellent support.
For further information, you can check our module through the link
Official Website
and
OpenCart.Com