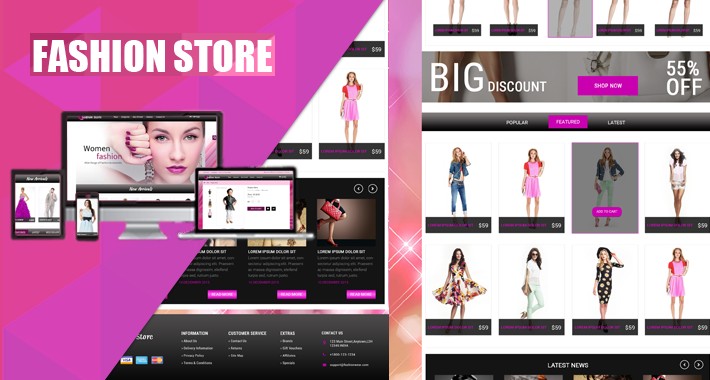 TMD Opencart developed this brand-new fashion theme specifically for the clothing and fashion sectors as well as the manufacturing sector.
A comprehensive theme that is based on the OpenCart framework, allowing you to rapidly set up a store and go online in a matter of hours.
Therefore, the template will be ideal for an online clothing business. Your products will be displayed in this online store even more attractively than in person. The purchasing experience of visitors is made fascinating by engaging colors, strong typefaces, hover effects, and interactive features.
The navigation of your store is carefully thought out to allow users and customers to search by brand, bestsellers, and product categories.
Icons are used in the primary menu. Products that are featured zoom in and out.
This theme is made to support many banners for your brand's and products' marketing because strong and effective banners make it possible to market the greatest products that are available for purchase.
What is Included with this theme?
1. Decent header and footer
The most crucial website components that improve the user experience for your store are the headers and footers.
Your audience may easily and conveniently browse from one page to another, from one product to another, or from one category to another using the header and footer. In order to make this theme more user-friendly, we integrated the best header and footer as well as a distinctive font that gives the theme a sober appearance.
2. Wide banners on storefront
Banners can be seen on the storefront of almost all eCommerce stores.
In order to draw more attention from users visiting your site, we have chosen to include sliders and banners to this eCommerce theme to display your special offers and new arrivals. You are free to make as many banners as you like to put up on your storefront.
3. Featured Latest and Best Seller Section
The business administrator is able to segment products for their new fashion arrivals every week or month by displaying them in this part in order to draw customers. Under this new arrival option, you can upload your new arrivals to this store. The area enables the showcasing of products as best sellers, new arrivals, or featured products.
4. Wide discount banners options on the page
The visibility is clearer the bigger the banners are. As a result, we have chosen to maintain a greater space for banners in this theme.
You can make your own standard banners and make the most of the available area.
5. Extra banner for sale discount
This theme offers banners in the middle of your site in addition to the slider and banners on the storefront.
These banners can be utilized for loot sales, offers, or discounts of any kind. Create your own weekly production banners featuring discounts and products of the month, such as the best seller of the month.
6. Multi-Currency and Multi-Language
You can use this theme for international languages and currencies thanks to multi-currency and multi-language support.
This is particularly crucial when you're seeking to promote your product in another nation and other countries around the world.
7. MyAccount & Wishlist
This theme offers the option to register for a user account, much like every other eCommerce site.
Orders can be placed from the user's account after logging in. View orders and submit evaluations for the items that are offered for sale.
8. Shopping Cart
A shopping cart is a feature of online store software that enables site visitors to choose products for potential purchases. This enables people who shop online to compile a list of things they want to buy. With this theme, you can simply place orders with the built-in shopping cart.
9. Blog
A crucial component of any eCommerce store is the blog. In order to provide consumers with the most recent news and product launches, we have created a prebuilt blog.
10. Special Categories page elements
The theme includes unique category page components that are sidebar incorporated for simple navigation. This enables you to display product categories in the sidebar in addition to banner ads for special offers.
11. The Product Page Elements
This theme's product page includes all the essential components for selling products from your business. This includes showing the product's rating, the reviews tab, the social sharing buttons, the add-to-cart and wishlist elements, and various product photos.
For further information, you can check our module through the link
Official Website
and
OpenCart.Com