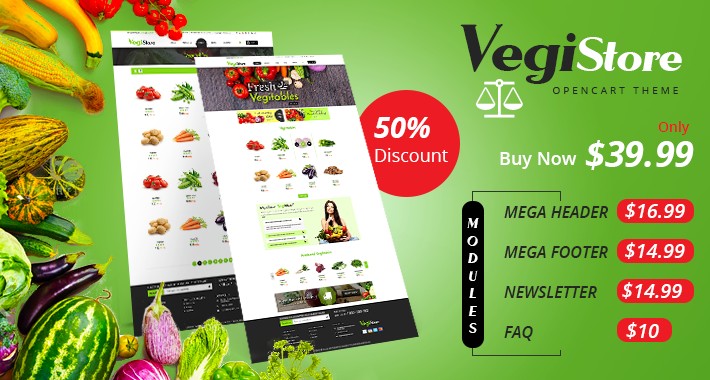 The magnificent and sophisticated OpenCart theme VegiStore is appropriate for use with all types of online vegetable and grocery stores. This theme was specifically created for store owners who wish to expand their online presence and boost sales by offering groceries or fresh produce.
The store owner may upload their products and adjust prices for any item using this very straightforward theme. The raw vegetable product inventory can also be modified or updated.
Consequently, this template is ideal for a vegetable store online. Due to the absence of a tangible product and market, unlike traditional selling, this online store purposefully makes your products available to online customers around the clock without any problem.
It enables you to constantly exhibit fresh vegetables and improves a product's quality online even more than in person. One significant advantage for you is: Are you interested in starting a 24-hour vegetable market? good idea; go for it.
Your online store will be up and running in a matter of minutes without any problem thanks to the assistance of our support staff who will assist you with theme installation.
Features Of The Vegistore Theme
1. Each product's hover colors are effective
2. The theme features lovely typography and engaging components.
3. Excellent display and user interface
4. Maintain interest among visitors with an enjoyable purchasing experience.
5. A reliable navigation system.
6. Simple search that enables brand, bestseller, and product category searches.
7. Icons are used to create the main menu.
8. Totally responsive across all devices and screen resolutions.
9. Online returns and payments
Add on Elements of Vegistore Theme
Mega Header
You can display a broad footer that you can modify with TMD Mega Footer.
You can add a Twitter feed, social icon, Facebook-like box, YouTube video, customer links, or any other additional information you wish to display in your footer with the aid of this module.
Get complete control over the footer from the admin, as well as the ability to change colors, hide and show any column, and more. This is a fully customized module.
Newsletter
On your website, newsletter modules will gather email addresses from clients and site visitors. The administrator can then use the website to directly subscribe users to a newsletter. It is meant to gather subscribers who might occasionally be interested in your product, offers, and services.
Similar methods are used by TMD's advanced newsletter module to increase the number of subscribers for your online store. Customers won't need an account to sign up for the newsletter.
For further information, you can check our module through the link
Official Website
and
OpenCart.Com