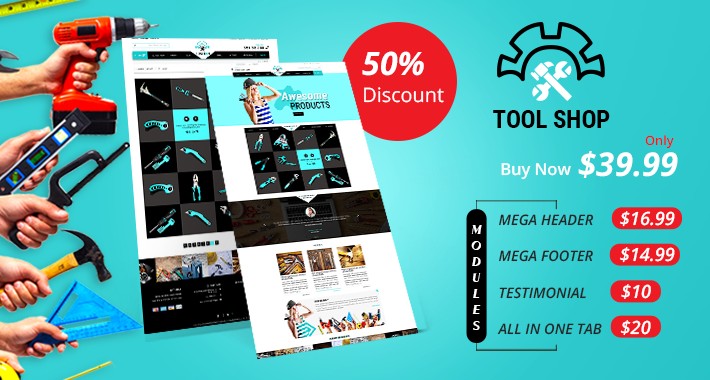 Our Tools OpenCart theme can be the ideal fit for you if you own a tool store and are searching for a powerful and appealing theme.
This theme does an excellent job of meeting all of your website's requirements. Our themes can satisfy all your needs, whether you want to list your products or make the website's navigation simpler. Your customers may now readily see your products and equipment and be convinced to buy. Our particular OpenCart theme is primarily intended for a tool store.
Our efforts have improved your header's experience. The performance of your store will be greatly enhanced with our mega header module. Logos and photos can be added using various website URLs. Customers may easily access every page of your website with only one click thanks to our Mega header module.
Your new consumers can read and comprehend your products and services by reading testimonials posted by actual customers. It raises the standard of your company's overall operations, goods, and services. Testimonials boost customer confidence in your company and are extremely important for generating leads and sales.
We provide you with a distinct, professionally prepared section for your testimonials. Customers of your business can browse reviews from people just like them. Visitors to this OpenCart tools theme can scroll horizontally to view products using our all-in-one tab module. You can quickly categorize all of your products using this all-in-one tab module.
The administrator can choose the categories and specify how many products to display for each category. Simply choose the all-in-one module in the layout options for the page where the administrator wants to display it.
Customers will be shown the most significant, available, and recent categories in this manner by the admin. It will raise the likelihood of sales.
This OpenCart tool theme is probably the best option for you because it was created specifically for shops that sell tools and equipment.
All of the features and components in this have been added from the perspective of the tool shop itself.
The optimum user experience is provided by the theme's adherence to Google's UI/UX principles. The admin can write the SEO meta tag, title, product descriptions, and category descriptions. Less than a few seconds pass before the theme loads.
This theme complies with all essential SEO best practices, making it easier for the developer, SEO, and sales teams to manage the on-page SEO work.
You distinguish yourself from the competition with the layout of your website. For this reason, we have placed a high value on design in our tools shop OpenCart theme and are providing you with the benefit of the most diverse, eye-catching, and captivating theme.
On the top header, there is a currency selection option. The currency is changed by customers. The chosen currency will automatically be used throughout the entire website. In certain products, the price will automatically alter.
We provide the social sharing option to help your tool shop run more efficiently. Customers can view and share the product's link or image on social media. Along with fresh visibility, it will increase your revenue and lead generation.
For further information, you can check our module through the link
Official Website
and
OpenCart.Com