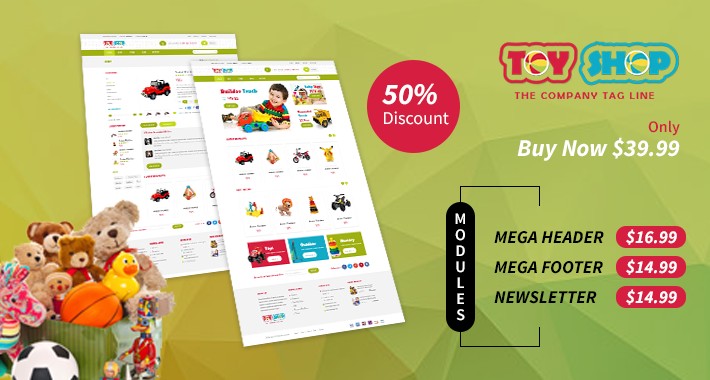 Startups and businesses frequently utilize the OpenCart theme to improve their online presence with little work and at a reasonable price.
TMD has provided the OpenCart community with a number of modules, extensions, and themes over the years.
One of them, this template, is useful for implementing OpenCart solutions for small businesses, traders, corporations, and toy manufacturers.
This design is ideal for an online toy business. You may update the number of products available online as well as their details and prices, and you can display your products in real-time.
With its vivid colors and appealing appearance as an online store, this theme is effective. It also has interactive components that add interest to the buying experience for visitors.
The Toy Responsive Theme's technology
This theme makes use of HTML5, CSS4, JavaScript, and Bootstrap 3.
Since Toy Theme is entirely responsive, it works on all devices.
Plugins used in Toy Responsive Module
Mega Header
The mega menu lets you add multi-column drop-down menus to your navigation along with media assets like photographs and videos. The mega menu is a multi-column version of the default menus that are typically present on every website. It may also change the normal menu bar into a variety of multi-column displays that add beauty and elegance to your OpenCart store.
Mega Footer
You can display a broad footer that you can modify with TMD Mega Footer. You can add a Twitter feed, social icon, Facebook-like box, YouTube video, customer links, or any other additional information you wish to display in your footer with the aid of this module.
Get complete control over the footer from the admin, as well as the ability to change colors, hide and show any column, and more. This is a fully customized module.
Newsletter
On your website, newsletter modules will gather email addresses from clients and site visitors. The administrator can then use the website to directly subscribe users to a newsletter. It is meant to gather subscribers who might occasionally be interested in your product, offers, and services.
For your online store, the TMD sophisticated Newsletter module is similar in that it helps you get the most subscribers. Customers won't need an account to sign up for the newsletter.
For further information, you can check our module through the link
Official Website
and
OpenCart.Com