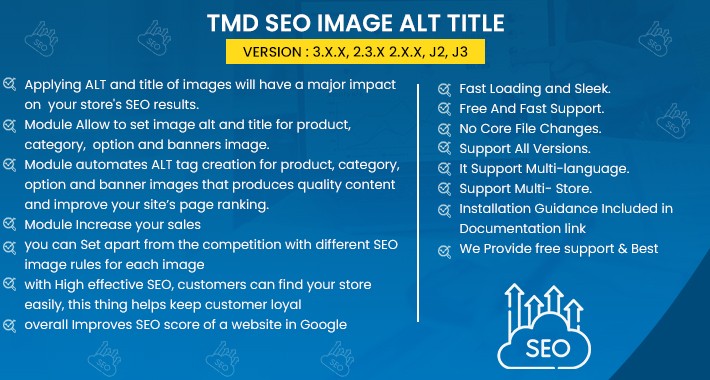 You may set up Product Image Titles and Product Image Alt for each of your store's products using the SEO Image Title & Alt module.
The product picture title and alt can be changed for SEO purposes whenever you want because the admin panel manages them. Since the module won't modify any OpenCart core files, updating your store won't cause any problems.
All store owners can benefit from the OpenCart Product Image Title and the Alt property in a variety of ways.
Therefore, using this module increases the likelihood of people visiting your store and becoming aware of it.
Images are the soul of any e-commerce store's items and display units, and they help you connect with customers.
However, there is a very slim possibility that your photographs will appear in searches if you do not optimize them with the appropriate image titles and alt attributes.
* Applying ALT and title to photos will significantly improve the SEO performance of your store.
* Module Allows configuring the image alt and title for the banners, categories, and products.
* The production of ALT tags for a product, category, option, and banner images is automated by the module, resulting in high-quality content that raises the page ranking of your website.
* By using distinct SEO image guidelines for each image, you may stand out from the competition.
* Customers may locate your store simply thanks to highly effective SEO, which keeps them coming back.
* Increases a website's overall SEO score in Google
* Installation instructions The documentation link contains
For further information, you can check our module through the link
Official Website
and
OpenCart.Com