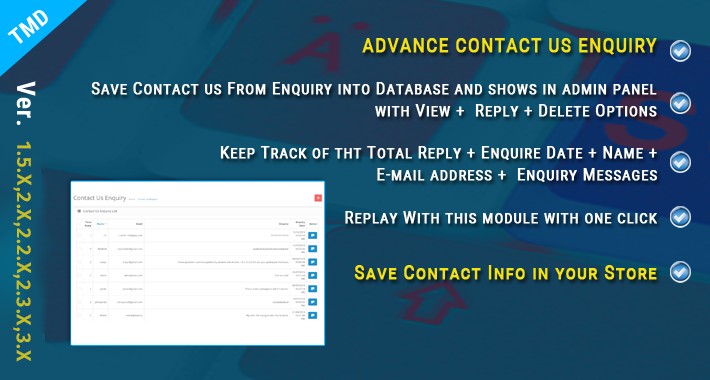 The ideal module to automatically save customer queries from the contact form in OpenCart admin is the Contact us to save, reply, and delete the extension. All contact us forms submissions is saved in your website database by this module.
Customer name, email, message, date, number of admin replies, and other crucial data are included in the list of all inquiries. With a single click, the administrator can respond to the consumer and count the replies.
So that admin can respond to customer inquiries with many emails, or follow-up emails. The module will automatically save previous replies.
Customers can get in touch with us, and the administrator will automatically save all of the data into the database. Customers can use the editor to write emails to us in either text or HTML format.
when a user submits a question via the contact page form. They were automatically saved to the website database using the OpenCart contact form module. It aids the administrative staff in handling all inquiries.
Admin has access to every query made by a consumer. Extension stores customer name, email address, message, how many times admin responded to the customer, and the date of the query in order to better understand consumer inquiries.
In our module, there is a choice that allows the admin to respond to the consumer directly. Admin can respond to customers directly using their specified email addresses.
In a single click, the administrator will respond to the customer's question. The total number of responses to a particular query is also stored.
To write emails, use the WYSIWYG editor provided by this addon. The administrator can write emails in both text and HTML formats thanks to this editor. Emails can contain text, images, videos, and links to web pages.
This module was created by TMD to operate with OpenCart versions 2. x and 3. x. The upload module section in the admin area of your website makes it simple to install a module. because OCMOD is used in this module. This leaves core files alone. It also functions with web pages that are cloud-based.
We have plug-and-play extensions, modules, and themes available. You only need to install them, then you are ready to utilize them.
For further information, you can check our module through the link
Official Website
and
OpenCart.Com