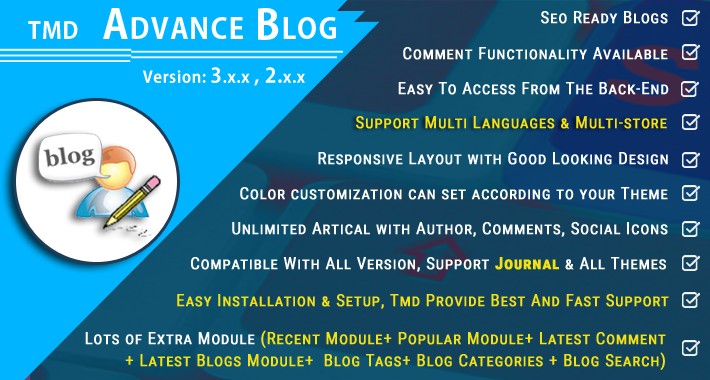 A blog is a crucial component of every website, and every e-commerce website must have one. In order to start blogging and promote any goods or services associated with an e-commerce business, bloggers need a straightforward and efficient platform. Blogging encourages organic traffic to websites.
The TMD OpenCart blog module was developed to offer a powerful blogging platform that is straightforward and manageable.
It features a separate website where content can be published, and you can even create your own templates there. From the admin, you can add blogs and categories. Additionally, it offers an admin dashboard where they may see the most recent comments and the total number of categories posted.
The module has a number of other settings and configurations, including color selection, title enables/disable choices, write-up options, social sharing icons, etc. It is among the greatest blog modules for OpenCart thanks to all of these capabilities.
The TMD OpenCart blog module permits numerous authors, in contrast to blog modules sold by others. Your blog can have numerous authors who can each publish a public post. Each author has access to view and responds to their own blog entries. Both the post and the comments may be edited.
Creating a blog on our website is simple. Then we consider whether we can alter the text's color or another blog aspect. That was resolved using our blog module. You are not required to hire any developer to change the color of a blog. You are limited to using the blog settings page.
Numerous color-related options are available on the configuration page, including the title text, description text, blog box background, blog container background, theme, theme hover effect color, header text, and header hover text. Brand the blog similarly to how you did with your website. A website that matches the blog's color scheme appears to be an official blog. Consequently, your client or customer will feel at ease.
We are aware of the significance of search traffic for any website. The OpenCart blog extension values SEO, which is why it has quick indexing, detailed search engine results, permalink URLs, and meta descriptions for each blog post and its title.
You have control over the blog post's title and meta description while you're writing it. Additionally, you can make the URL for that post-SEO-friendly. which all search engines adore. These items are all contained within this extension. A better search engine ranking for your blog post is made possible with the OpenCart 3 blog module.
There are numerous settings and potent dashboards included with OpenCart blogs. Four social sharing icons are also featured. You can share your content using this on other social networking sites. You could use various authors' blogs thanks to it. Multiple categories and postings are possible. The gallery is included with the blog. Any post may contain as many images as you like. A remark on a post may be written by your consumer or client. On the dashboard and the comments page, the number of comments will be displayed.
Any type of format is acceptable for the blog post. A WYSIWYG editor is available. which is utilized when posting. While creating a post, text, and HTML can be written. You can display a video and a gallery in the post. You can update and display what you like using the blog module. One blog Page will display all posts written so far. There are numerous built-in options and functions that will help you save time. This module gives you the option to change the post's image size in addition to letting you show or hide information.
We have thoroughly tested all of the versions and themes. On all well-known themes, the OpenCart blog extension will function flawlessly. It is commonly known that Journal Theme. For TMD, the Journal theme is supported by all modules and extensions. Additionally, it works with practically all of the OpenCart themes that are offered for purchase. It now goes by the name of OpenCart Blog Pro. owing to its improved functionalities.
For further information, you can check our module through the link
Official Website
and
OpenCart.Com