---
Just had an order that processed in pounds from the UK and that numerical amount (not actual dollar amount) was processed though my merchant account. I lost money on it and it was obviously an error. Looking into it appears that Opencart used a service provided by Yahoo to determine the exchange rates and Yahoo recently discontinued that service. I see a couple extensions for Opencart that purport to provide this service but would like to get feedback from others to help decide my course of action.
---
OK I have downloaded the extension and am having a service install it. I have almost no experience with this and they are asking me to select a provider and provide an API key. Do I need to register with a service provider ? If so, any recommendations?
Attachments
image.png (41.54 KiB) Viewed 790 times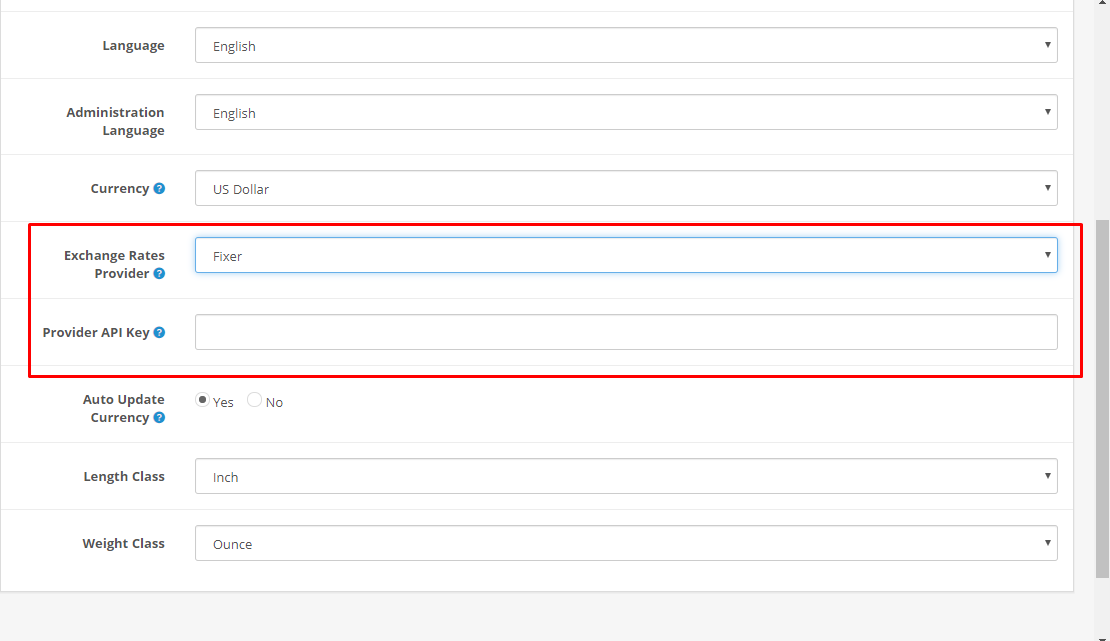 image.png (41.54 KiB) Viewed 790 times
---
---
Print Version for Product Page and Product Compare Page | Rich Snippets | Facebook Open Graph Meta Tags | Information pages in top menu | Multi-Language Banners, Sliders and Carousels

---
Thanks for the info agatha65, that free Extension works vqmodded
flawless with my 1.5.6.5_rc Designs ! It's good, to still have fellows like
famous GrandCMS around here once in a while ...

Ernie
---
Please don't send me OC Forum Personal Messages, just contact: jti@jacob.ch
---
OC 1.5.6.5 LIGHT Test Site: http://www.bigmax.ch/shop/
OC 1.5.6.5 V-PRO Test Site: http://www.jacob.ch/shop/
My Github OC Site: https://github.com/IP-CAM
2'250+ FREE OC Extensions from the World's largest Github OC Repository Archive Site.
Who is online
Users browsing this forum: No registered users and 8 guests