---
Every time I add a new category, the error log creates the same error but I don't know what's causing it. It wouldn't let me copy the error so I took a screen cap to show you. Any help would be greatly appreciated.
Attachments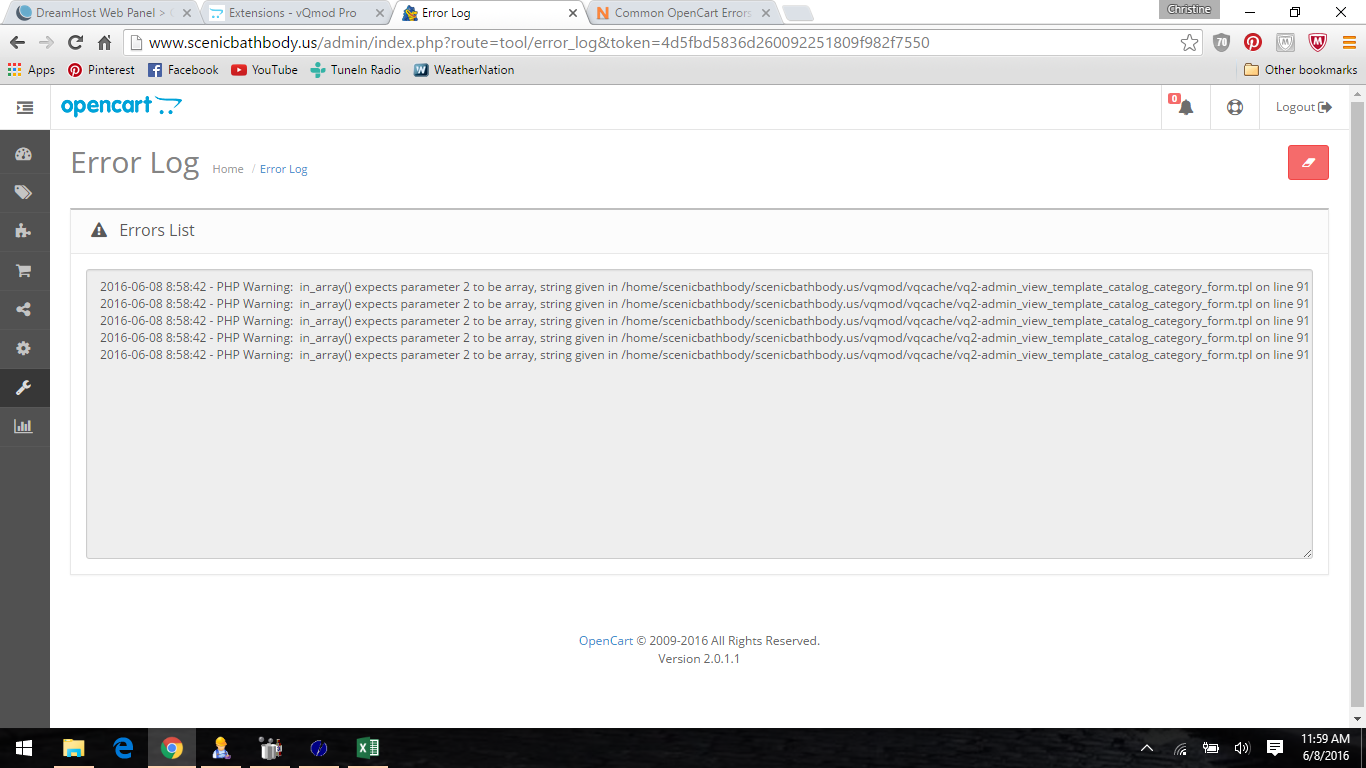 Error log - categoryadditionerrors.png (145.49 KiB) Viewed 439 times
---
---
---
Joined
Fri Sep 27, 2013 11:00 pm
---
Show the content of the file (from error message)
---
Forget complex and inconvenient stock Categories and Products in OpenCart - use Acute Category Manager +!
Ready for 1.5.x and 2.x Editions
---
In each lines, it does mention the use of VQMod. This is an error caused by one of the installed extensions you might be using. Disabling one VQMod at the time until this error vanishes will provide the solution after retrying the page.
---
The most generated errors being found on Opencart forum originates from contributed programming. The increased post counters are caused by redundancies of the same solutions that were already provided prior.


Regards,
Straightlight
Opencart.com Administrator / Quality Assurance Analyst / Programmer
---
---
---
Joined
Mon Nov 14, 2011 11:38 pm
Location - Canada, ON
---
I know what extension is causing the errors but I need that extension so I can use Opencart 2. For some reason autocomplete doesn't work on Opencart 2.0 on my computer.
---
---
---
Joined
Fri Sep 27, 2013 11:00 pm
---
If these errors are caused by a contribution you would not like to remove, it would be best to contact the developer of the extension to resolved these issues.
---
The most generated errors being found on Opencart forum originates from contributed programming. The increased post counters are caused by redundancies of the same solutions that were already provided prior.


Regards,
Straightlight
Opencart.com Administrator / Quality Assurance Analyst / Programmer
---
---
---
Joined
Mon Nov 14, 2011 11:38 pm
Location - Canada, ON
Who is online
Users browsing this forum: No registered users and 4 guests