---
I have several languages and when I start to update About Us via Information with new languages, it looks like they are saved at first, but when I return to check it's still same old About Us
Attachments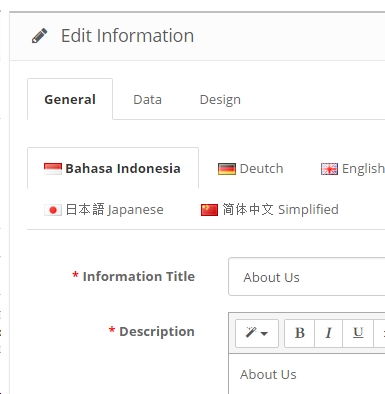 Changes not saved - about us.jpg (46.36 KiB) Viewed 544 times
---
---
I'm no longer active at the OC Forum. To reach me, contact: jti@jacob.ch
A Demoversion of my free OpenCart LIGHT v.1.5.6.5 Software Edition
can be seen in Action here: http://www.jti.li/shop/
---
940+ FREE OC Extension-Repositories - from OC v.1.5.x up,
on the world's largest OC-related Github Site: https://github.com/IP-CAM
---

---
Thank you for that tip I will try it out,,,,,,,,, but,,,,, as it is a bug don't you think it's a better idea that OC fix it?
---
I do hope that this bug will be fixed ASAP since it is very annoying and gives my site a very unserious look
---
Language Translations exept for the default english, are NOT a DIRECT part,
and so responsability of the OC Project itself, therefore, it must not, under
all circumstances, be an OC BUG. Just to mention it!
Ernie
---
I'm no longer active at the OC Forum. To reach me, contact: jti@jacob.ch
A Demoversion of my free OpenCart LIGHT v.1.5.6.5 Software Edition
can be seen in Action here: http://www.jti.li/shop/
---
940+ FREE OC Extension-Repositories - from OC v.1.5.x up,
on the world's largest OC-related Github Site: https://github.com/IP-CAM
---

---
Are you talking bs or are you serious that the function to have more languages than english, though there are features for it, is not OC responsible? I think you are talking BS ! A system that saves data at random !!! Sure, a very serious e-comm.



---
The Opencart installation comes with the English version out of the box. It does not deliver, by default, any other linguistic settings. However, I do approve the fact that respective coding has to be followed whenever a global language change takes effect from the admin-end. Although, to indicate that linguistic packages is part of the OC's team responsibility is incorrect statement since the original package comes only with one language during the installation.
---
The most generated errors being found on Opencart forum originates from contributed programming. The increased post counters are caused by redundancies of the same solutions that were already provided prior.


Regards,
Straightlight
Opencart.com Administrator / Quality Assurance Analyst / Programmer
---
---
---
Joined
Mon Nov 14, 2011 11:38 pm
Location - Canada, ON
---
Unbelievable answers I get. I'm not really talking about different languages, I'm talking about a bug in the system that sometimes save data at random and sometimes not at all. IT IS A FEATURE in OC to have more than one language, but it does not work. Try to have more than one language, make a new category and write some text in "General" > Save.
Then under tab "Data" write different info and Save.
Check ! Ooooops ! Mixed up data!
Under Information, About us etc. data is not even saved !
---
I think this is such a serious bug that a reply and some action from OC is required. It looks like data is saved in Category, Products, Information etc. as long as you "stay" in the choosen function. But leave it and go back, all the submitted data is gone. If no action from OC I have to change to another more reliable system with support for their products.
Who is online
Users browsing this forum: No registered users and 8 guests