---
>> want to use bitrix and i was wondering if its possible to integrate opencart in to it? <<

Yes, probably. But it's gonna be very expensive to do, since I assume, that,
with the possible exeption of some russian Fellows, nobody has done such yet.
Google shows some links on the theme...

Looking at the Bitrix Shop Prices, something like this could be sold easy for
a ONE TIME ONLY Fee of up to 1'000 US-Bucks..., each!

Ernie
openshop.li
---
For Sale: Turnkey URLs with Opencart installed
My latest Opencart LIGHT Testsite: http://www.bigmax.ch/
Attacker IP Blocks are denied from further access to my Sites!
Just contact me for more Information at: jti@jacob.ch
770 FREE OC Extension-Repositories - from OC v.1.5.x up
on the largest Opencart-Mod Github Site: https://github.com/IP-CAM

---
EvilHit wrote:hey guys

i want to use bitrix and i was wondering if its possible to integrate opencart in to it?
What do you exactly mean By opencart integration ? Do you want to show opencart products in bitrix? Do you want users to login automatically to opencart from bitrix?
---
Chris, Opencart Developers and Programmers,
www.chrisranjana.com
---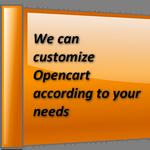 ---
---
Hi guys,Me to have the same problem.Now i get some idea.Thanks for your valuable information

---
---
---
---
Joined
Tue May 17, 2016 11:18 pm
Who is online
Users browsing this forum: No registered users and 5 guests