Make Referrals, Get Discounts
is the easiest way to get your customers to do your marketing for you.
MRGD
is an incentive-based referral program that rewards your customers for referring friends that place orders. Here's how it works:
Your customer (or anyone with an account on your website) sends discounts to people they know via an easy-to-use form on your site.
The recipient of the discount places an order using their unique discount code.
For each order placed, the sender receives an email with his own discount code.
Click here to see screenshots
The
MRGD
form will auto-fill the sender's name and email address as it appears in their account information on your site.
MRGD
Includes extensive admin options and full reporting, making it a necessary addition to any OpenCart-powered website.
The
MRGD
form is completely customizable to match the look and feel of your website.
The
MRGD
download contains
step-by-step instructions
for easy install.
MRGD
uses
vQmod
, and requires no core changes to your OpenCart installation.
Get it in the OpenCart extension store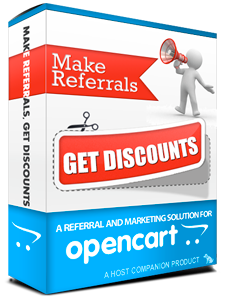 Immediate download includes all files and setup instructions that you need to install and start using this amazing OpenCart extension.
Don't want to do the install yourself? Custom installation is also available. Go
here
for more details.