---
Hello everyone,
Anyone working on an integration for OC and Mautic.
http://mautic.org
---
and how much are you prepared to spend for it ?

Ernie
---
For Sale: Turnkey URLs with Opencart installed
My latest Opencart LIGHT Testsite: http://www.bigmax.ch/
Attacker IP Blocks are denied from further access to my Sites!
Just contact me for more Information at: jti@jacob.ch
860+ FREE OC Extension-Repositories - from OC v.1.5.x up
on the largest Opencart-Mod Github Site: https://github.com/IP-CAM

---
santoch wrote:Set a fair price to this module and put it on marketplace to sell... I'll be your first customer
It doesn't work this way. Modules put on marketplace are either used by developer himself of should be bought multiple times to cover the development costs. You might be the only one, who's gonna buy it, so the question is fair: now much YOU want to spend on it? And yes, it won't be cheap, because any unique or less demanded products cost more.
But judging from the description of Mautic, there's nothing you can't find extension for. So I'd suggest you to search the market place first.
---
Professional OpenCart extensions, support and custom work.
Contact me via email or Skype by support@thekrotek.com
---
IP_CAM wrote:and how much are you prepared to spend for it ?

Ernie
I am going to start working on this plugin and price set would be 99$ .
If you are interested in bet version email me at
support@iextendlabs.com
---

iExtend Labs: Opencart Extensions - Bug Fixes - Integrations
---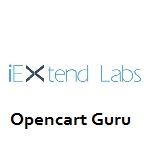 ---
Who is online
Users browsing this forum: No registered users and 19 guests