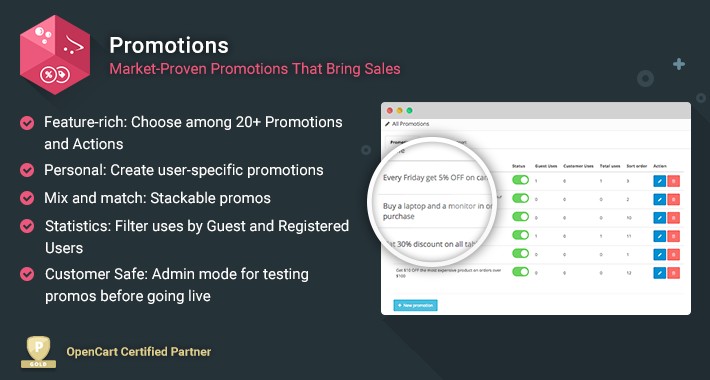 What is Promotions
Promotions are all around us. They are influencing our consumer spending, making us more price sensitive and driving decisions on whether or not we should spend a part of our salary on this gadget we crave, or wait until we get this huge deal on Black Friday. We believe that promotions are an essential part of any marketing strategy mix and when done right can do miracles for your business. We based our new Promotions module on Scientific research, as well as a mix of Promotion strategies that worked for us and our clients. Part of the options are also influenced by big companies such as eBay, Amazon, Etsy, Souq and Alibaba.com.
Features
[NEW] MultiStore
[New Feature] Promotion listing page
[New Feature] Displaying promotions in product tab
✯ Unlimited Possibilities - Promotions is the most sophisticated promotions module available for OpenCart. It allows you hundreds of different options to make your store promotion unique.
✯ Stackable or Non-Stackable Promotions - Promotions uses rules and actions to create different promotions for your store clients. The module allows you to combine different promotional rules and thus create more sophisticated promotions.
✯ 3 Types of Discounts - All about flexibility. Promotions allows you to set Percentage (for example 5%), Fixed amount (for example $20 dollars) or fix price (If a product costs $250, a customer might get it for $200).
✯ Start-date/End-date - We know store owners are busy. This is why we wanted to create an easy way to set promotions for specific dates. Create a limited time promotions by utilizing the start date, end date feature.
✯ Registered or Guest uses - Want to increase on-site registrations? You can now create promotions only applicable to registered customers.
✯ Max Allowed Use - While promotions are an awesome way to drive store traffic and sales, some customers might get too much of them. Promotions allows you to set max uses for a promotion or per customer.
✯ Admin Test Mode - Want to test the promotion just to make sure its the way you envisioned it? No problem - Promotions allows you to create promotions that only the admins of the site are able to see
✯ Journal Theme Compatible - Promotions module is fully compatible with Journal OpenCart Theme.
Demos:
✯
Promotions front-end demo
✯
Promotions back-end demo
✯
Download Promotions from OpenCart Store
✯
Download Promotions from iSenseLabs Store
✯
iSenseLabs Support. Open a Support Ticket from here
Unparalleled Support
From specialized community forum to private home-build ticket support system. iSenseLabs is a highly personalized, reliable, 48-hour guaranteed reply time (except holidays and weekends, which might take longer). We have got your back.
♥ Find us on
Facebook
♥ Add us to your Circles in
Google+
♥ Follow us on
Twitter
Happy with your purchase? Please rate our product. ★★★★★
OpenCart Premium Modules and Themes. Made by iSenseLabs